Bitter Melon Soup with Chicken and Pineapple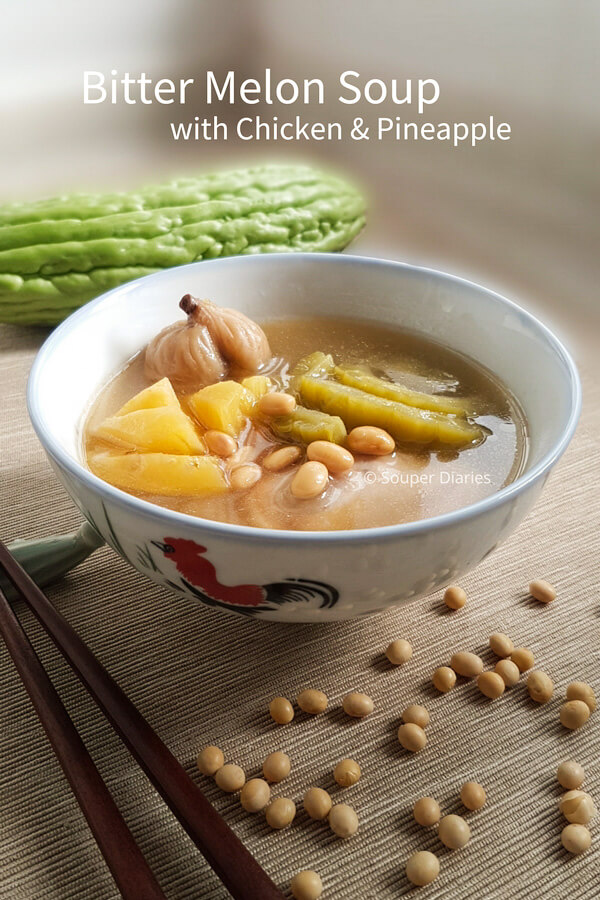 Recipe type:
Slow Simmer Soup
450 g chicken (use thighs or drumstick) - skin removed
1 bitter melon (300 g)
60 g soya beans - soaked for 1 hour and discard soaking water
4 dried figs (optional) - *see note
250 g pineapple - cut into bite-sized slices
6 cups water
Wash the bitter melon and cut into half lengthwise. Remove the white spongy part and seeds from the bitter gourd. Cut into slices and set aside.
Blanch chicken in hot water for 3 minutes. Remove and add into a soup pot together with soya beans, dried figs and water. Bring to a boil. Once it is boiling, lower heat and simmer for about 40 minutes.
Add bitter gourd and simmer for 20 minutes. In the last 10 minutes, add the pineapple chunks.
Serve immediately.
I used Turkish dried figs which are quite big. You may also use the smaller variety from China.
Recipe by
Souper Diaries
at https://souperdiaries.com/bitter-melon-soup-recipe/