Bitter Gourd Soup with Salted Vegetables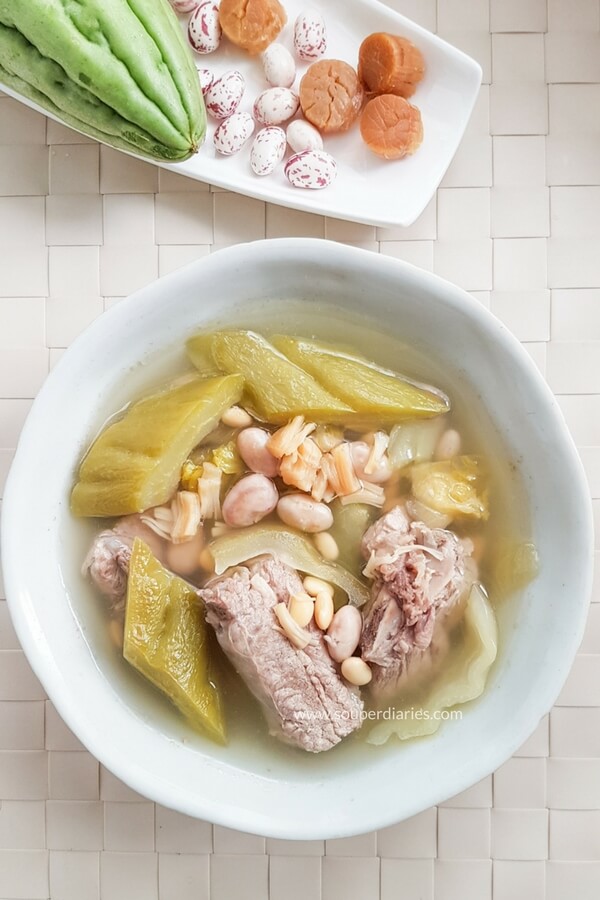 Recipe type:
Slow Simmer Soup
1 bitter gourd (500 g)
600 g pork ribs
200 g cranberry beans
6 cups water
80 g soy beans - soaked for 2 to 3 hours
4 dried scallops - soaked for 2 to 3 hours
100 g salted vegetables - soaked for 10 minutes
Blanch pork ribs in boiling water for 2 minutes. Rinse and set aside. Cut bitter bitter melon lengthwise and remove seeds and white spongy part. Then cut into half lengthwise and slice diagonally. Cut salted vegetables and set aside.
Optional step: Blanch bitter gourd in boiling water for a few minutes if you wish to reduce the bitterness. Rinse with cold water and set aside.
Add soy beans, salted vegetables, pork ribs and dried scallops into a soup pot (I used a clay pot). Bring to a boil. Reduce heat to low and simmer for 1 hour 30 minutes.
Add bitter gourd and cranberry beans and cook on low heat for another 30 minutes. Season with salt to taste if necessary.
1. The weight of the cranberry beans is before removing the beans.
2. Preparation time does not include soaking time.
Recipe by
Souper Diaries
at https://souperdiaries.com/bitter-gourd-soup-recipe/