Luffa with Cloud Ear Fungus Soup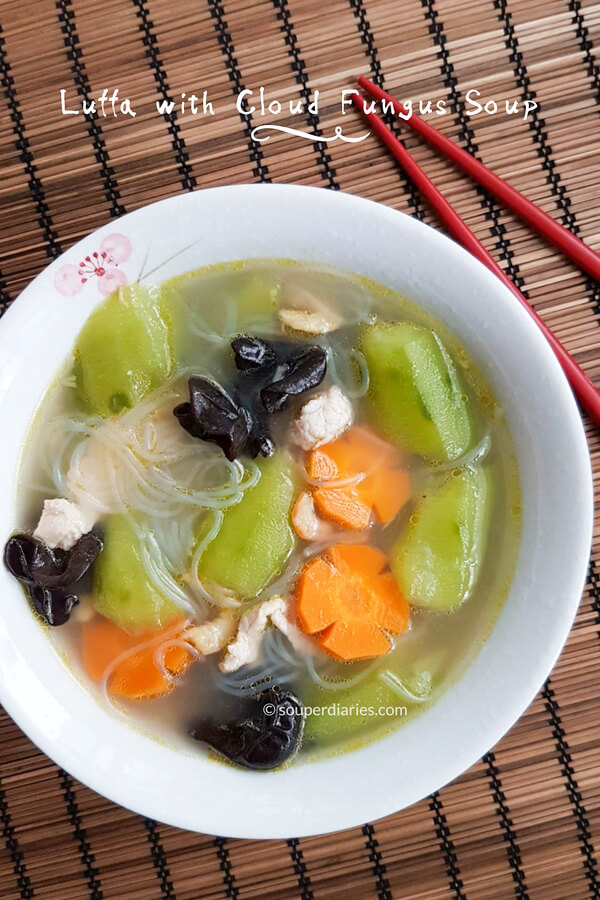 Recipe type:
Quick Boil Soup
1 luffa (600g before peeling)
100 g lean pork - sliced thinly
80 g carrot - peeled and cut into pieces
3 slices ginger
2 cloves garlic
30 g xia mi (dried shrimps)
4½ cups water or stock
To Soak
10 g dried cloud ear fungus - soak for about 5 minutes or till it expands
1 bundle of glass noodle - soak till it softens
Marinade for pork
1/2 tsp salt
1 tbsp Chinese cooking wine
½ tsp light soy sauce
Marinade pork and set aside for 10 minutes. Peel luffa and cut into large or medium pieces (it will shrink after cooking). It is up to you whether you want to remove the seeds or not as they will soften once cooked.
Heat up a little oil in a wok or soup pot. Add garlic, ginger and dried shrimps and stir fry till fragrant. Add luffa and stir-fry for a minute. Add carrots and continue to stir-fry for another minute.
Add water and cloud fungus and bring to a boil. Then simmer for 5 minutes. Add sliced pork and glass noodles and cook for 2 to 3 minutes. Season with salt to taste and serve.
If stock is used, it is not necessary to add dried shrimps.
Recipe by
Souper Diaries
at https://souperdiaries.com/luffa-soup-with-black-fungus/