Cantonese Wonton Noodle Soup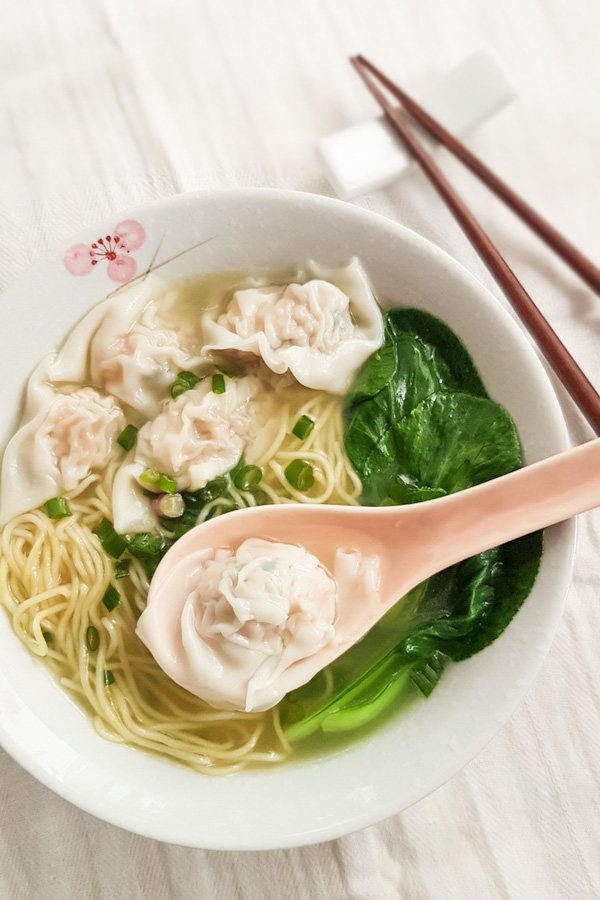 80 g minced pork (with fat)
150 g shrimp (weight is after peeling)
2 tbsp chopped spring onions
1 tsp finely minced ginger
1 small egg yolk
¾ tsp dried flounder powder (dried sole powder) - optional
1 tsp corn starch
½ tbsp light soy sauce
½ tbsp sesame oil
Sugar to taste
Salt to taste
Pinch of pepper
3 cups homemade chicken stock
1 tsp dried sole powder - optional
¾ tsp light soy sauce
¼ tsp sesame oil
Some chopped spring onions
1 packet of wonton wrappers (use the thinnest that you can find)
2 bundles of Hong Kong style noodles
Chopped spring onions for garnishing
Iced water
1 tsp baking soda
½ tsp salt
Place shrimp in a bowl and submerge with cold water. Add baking soda and salt and gently stir. Soak for 20 to 30 minutes. Drain and rinse well. Lay shrimp flat on a chopping board and pat dry thoroughly. Cut each shrimp into 3 - 4 pieces. No need to cut if you're using small shrimp.
Combine all the ingredients for wonton filling and mix well till it becomes a sticky and slightly wet paste.
Refer to this guide on how to wrap wontons.
Combine chicken stock and dried flounder powder in a pot. Bring to a boil and simmer for 10 minutes. In a separate large pan or wok, bring water to a boil.
While waiting for the water to boil, prepare 2 large bowls. In each bowl, add ¼ tsp sesame oil, ¾ tsp light soy sauce and some spring onions. Set aside.
When the water boils, drop 10 to 12 wontons carefully into the water. Gently nudge them after you put them in to prevent them from sticking to the bottom of the pot. Cook for 3 - 4 minutes (depending on size) till they start to float up. Take one out and cut open to check that they're cooked through. Once fully cooked, remove the rest immediately with spider/sieve spoon and divide between the serving bowls with seasoning. Ladle hot chicken stock into the bowls immediately to keep wontons warm and prevent sticking.
In the pan, blanch veggies for about a minute. Remove and set aside. Bring water back to a rapid boil. Loosen and cook 1 bundle of noodles for about 15 seconds. Remove and transfer to an ice bath. Then briefly cook again for another 5 seconds. Remove and place on top of the wontons. Repeat the process for the other bundle of noodle.
Arrange veggies on the side of the noodles and serve immediately.
1. To prepare dried flounder powder, toast them on a pan or grill them in the oven (11 to 13 minutes depending on size) till they are fragrant. Then pulverize them to a powder with a blender or food processor. Unused dried flounder can be kept refrigerated for about 3 months.
Recipe by
Souper Diaries
at https://souperdiaries.com/cantonese-wonton-noodle-soup/