Fish Maw with Prawn Meatballs Soup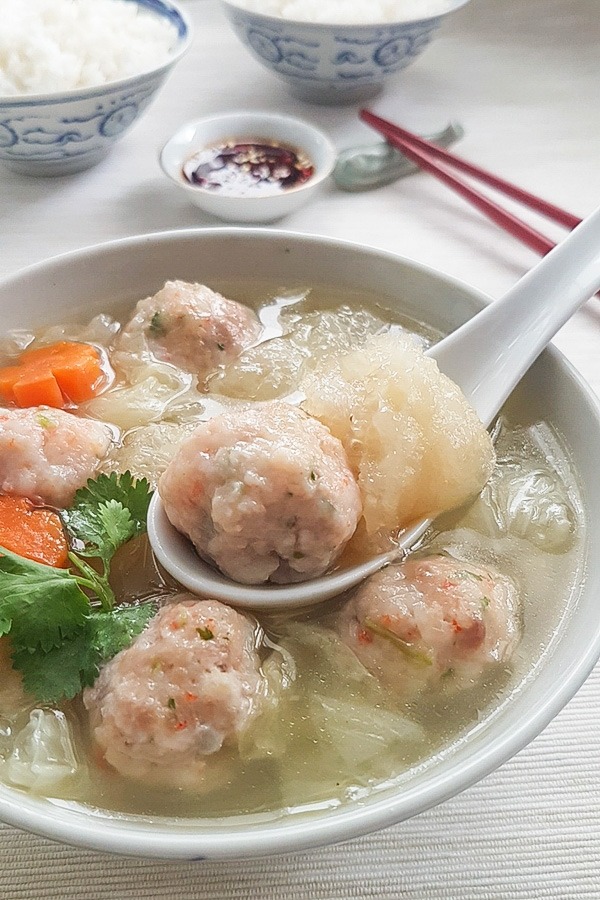 50 g fish maw
6 cups homemade pork or chicken stock (or 4 cups store bought broth + 2 cups water)
300 g napa cabbage - cut into bite-sized length (use yuan xiao bai if available)
1 medium carrot - peeled and cut into bite-sized pieces
150 g prawns (weight is after removing head and shells)
100 g minced pork (with 20% fat)
½ tsp salt (or to taste)
Pinch of pepper
1 tbsp tapioca starch
½ tsp sesame oil
1 tbsp minced coriander
¾ tsp minced red chili (de-seeded)
1 tbsp baking soda
1 small egg white
1 tbsp tapioca starch
Prep prawns to make them crunchy. Peel and remove veins from prawns. Submerge them in a bowl of cold water. Add 1 tbsp of baking soda and gently massage the prawns. Set aside for 30 minutes. Rinse prawns thoroughly before patting dry. Add egg white and tapioca starch to the shrimp and gently massage. Marinate for about 4 hours or overnight for best results.
The next day, soak fish maw in water in a large bowl until it softens. If the fish maw is still very greasy, change the water repeatedly. Remove, rinse and gently squeeze out excess water. Cut into bite-sized pieces.
Mince or blend prawns but not too finely. Combine the prawn paste with the rest of the ingredients for the prawn balls. Refrigerate the paste for about 30 minutes.
Wet your hands and scoop 1 tbsp of the prawn paste (See note 1). Roll into a ball. Repeat the process until the paste is finished.
Bring stock to a boil. Add carrot and fish maw. Simmer for 5 minutes or until the fish maw just softens. Add napa cabbage and cook for 3 minutes. Add prawn meatballs and simmer for about 4 to 5 minutes. If you're using homemade chicken stock, season with salt to taste. Garnish with coriander leaves and serve immediately.
1. Wear disposable gloves if you don't want your hands to get dirty as the paste is very sticky
2. Use yuan xiao bai (圆小白) if available to replace napa cabbage.
3. Cook the prawn balls by simmering. Do not boil them.
Recipe by
Souper Diaries
at https://souperdiaries.com/fish-maw-soup-recipe/