Tang Yuan (Glutinous Rice Balls) with Sweet Ginger Syrup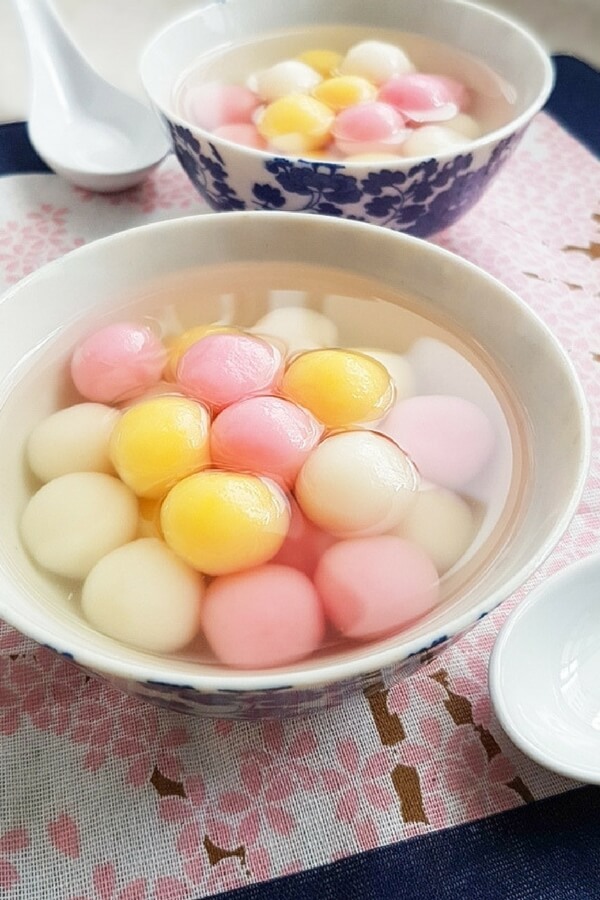 2 cups glutinous rice flour
200 ml water (slightly more than ¾ cup)
Red food coloring
Yellow food coloring
50 g ginger (lightly bruised)
½ cup sugar (or to taste)
2 cups water
3 stalks pandan leaves or screwpine leaves (tied into a knot)
Prepare ginger syrup. Add water, ginger, sugar and pandan leaves into a pot. Bring to a boil and let simmer for 10 to 15 minutes. Taste the syrup and adjust as necessary. Set aside.
In a big bowl, mix glutinous rice flour with water and knead till it forms a smooth pliable dough.
Divide the dough into three portions with the biggest portion white. Add about 3 drops of red food coloring to make one portion pink. Knead the dough until the color is evenly spread. Repeat this process with the yellow food coloring on the remaining portion.
Roll the 3 portions into strips. Pinch each strip into small portions and roll them between your palms into round balls. Set aside on a parchment paper or slightly damp kitchen towel.
Bring water to a boil in another pot. Slowly drop in the glutinous rice balls and cook till they float up. Ladle up with a spider spoon/sieve and transfer to a big bowl of water if not serving immediately. If you're serving right away, ladle them into individual bowls and pour the ginger syrup over them.
If the dough is too dry, add some water and add some flour if it is too wet.
Recipe by
Souper Diaries
at https://souperdiaries.com/tang-yuan-recipe/