Roasted Pumpkin Apple Soup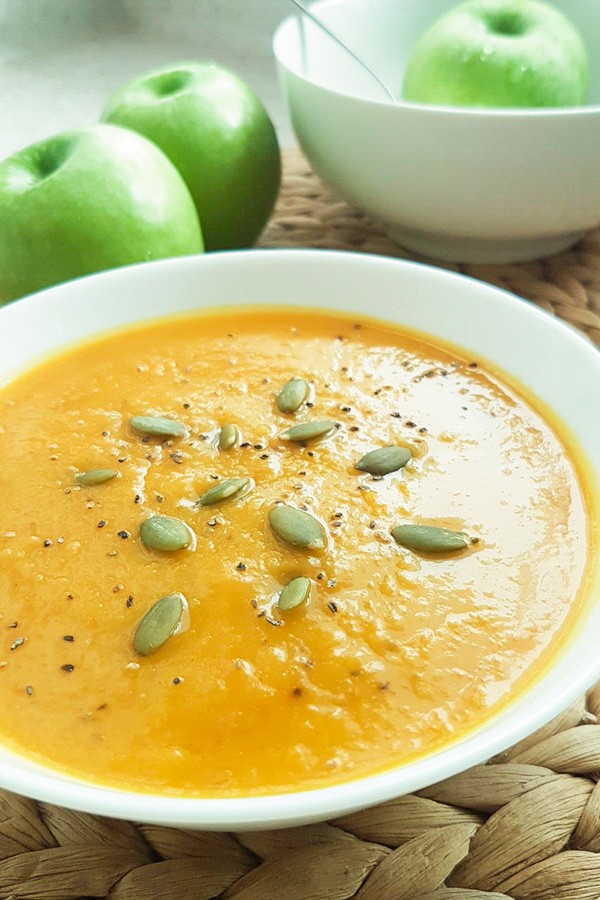 Recipe type:
Quick Soup Recipes
Pumpkin (about 500 g)
2 apples - washed, cored and quartered (leave skin on)
1 carrot - peeled and cut into chunks
1 onion - skin removed and chopped
2 bay leaves
3 - 4 shakes of smoked paprika
1 cup light coconut milk (or use ½ cup coconut milk and increase water)
2 cups water
2 tbsp olive oil (divided)
Salt
Black pepper
Black pepper
Pumpkin seeds
Wash pumpkin and remove seeds. Remove skin and cut pumpkin into pieces. Alternatively, you could leave the skin on and remove the pumpkin flesh later. Place pumpkin pieces, onions, apples and carrot on a parchment lined baking tray. Drizzle with 1 tbsp olive oil and sprinkle with salt.
Preheat oven at 180 degrees C. Roast for 30 minutes or until the pumpkin and carrots are soft and lightly caramelized at the edges.
Heat 1 tbsp of olive oil in a medium sized deep pot. Saute onions till soft and translucent. Add roasted ingredients, paprika and bay leaves into the pot and saute for another minute.
Add water. Bring to a boil and simmer for about 5 minutes. Taste and season with salt and pepper.
Remove bay leaves. Use an immersion blender or heat resistant blender and blend the soup till smooth. If you find the soup consistency too thick, add a little water to thin it out.
Pour into serving bowls. Garnish with your favorite toppings. Garnishing suggestions: pumpkin seeds, chili, black pepper, chopped coriander, cream, etc.
1. Roasting time will vary depending on how thick the pumpkins are cut. You may have to adjust the timing.
2. Don't blend the pumpkins with the skin on or the soup will take on a greenish tinge and a rustic flavor. Yep, I tried that.
3. Use a pot with a high wall when making this soup. It will help prevent the hot soup from splashing up if you're using an immersion blender.
Recipe by
Souper Diaries
at https://souperdiaries.com/roasted-pumpkin-apple-soup/