Kaffir Lime Leaves Fried Wonton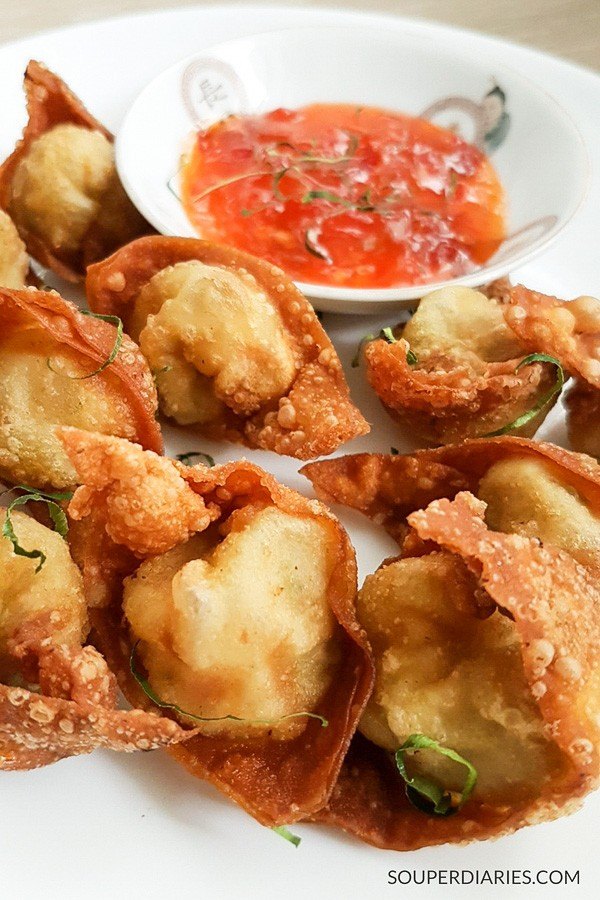 Serves:
30 big wontons or 50 small ones
250 g shrimp - (about 150 g after removing shell)
200 g minced pork (with some fat)
8 kaffir lime leaves
10 g ginger - peeled and minced
1½ tsp fish sauce
1 tsp minced coriander
½ tsp sesame oil
3 dashes white pepper
1 packet wonton wrappers
1 small bowl of water (for sealing)
Oil (for deep frying)
2 kaffir lime leaves - thinly sliced
Rinse, shell and devein shrimp. Cut into 1 cm pieces.
Rinse kaffir lime leaves and pat dry. Use a small sharp knife to remove the spine from each leaf. Grind 8 of the lime leaves using either a mortar and pestle or electric grinder. Roll the remaining leaves and slice finely.
Prepare wonton filling. In a bowl, add shrimp, minced pork, ginger, kaffir lime leaves and all ingredients for seasoning. Mix well until it forms a paste.
Refer to this post to learn how to wrap wontons. I used the triangular ingot wonton shape but you can choose any shape that you like.
Heat up oil for deep-frying. Cook the wonton in batches until golden brown. Remove with a slotted spoon and place on a wire rack or paper towel to drain excess oil.
Slice 2 kaffir lime leaves finely. Serve fried wontons with your favorite Thai sweet chili sauce and garnish with the sliced kaffir lime leaves.
1. You can add more kaffir lime leaves into the wontons if you want a stronger flavor of the lime leaves.
Recipe by
Souper Diaries
at https://souperdiaries.com/chinese-fried-wonton-recipe/