Peach Gum and Pear Dessert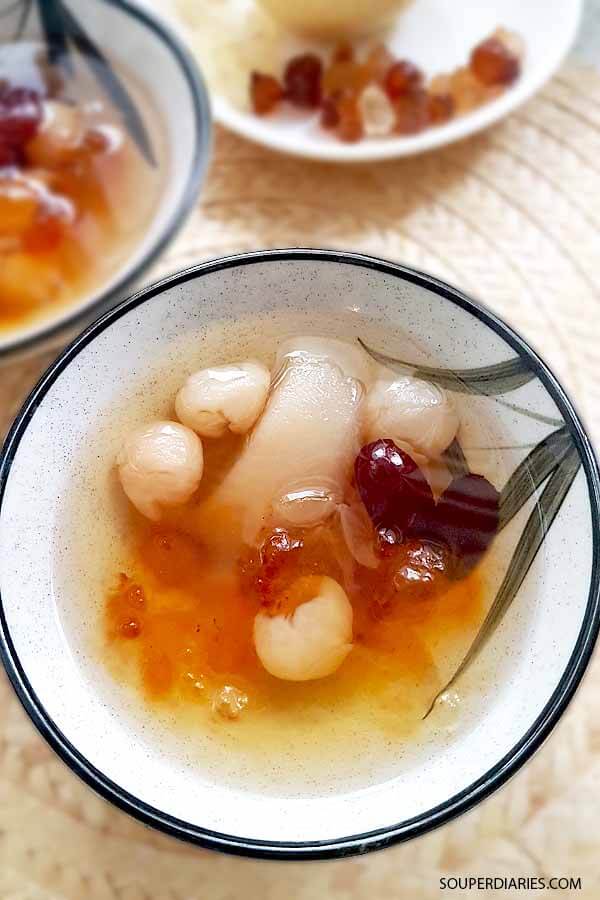 40 g peach gum - soaked overnight (for at least 12 hours)
20 g snow lotus seeds (optional) - soaked for 2 to 3 hours
6 dried red dates - rinsed
30 g dried longan - rinsed
1 pear - skin removed and cut into wedges
6 cups water
Rock sugar
Remove dirt and impurities from soaked peach gum. Use a sieve to rinse and set aside.
Bring water to a boil. Add snow lotus seeds, dried red dates, dried longan and pear. Simmer for 30 minutes. Add peach gum and simmer for another 15 minutes. Add rock sugar to taste.
Serve warm or chilled.
1. The prep time in this recipe does not include the soaking time.
2. If not using snow lotus seeds, you can increase the amount of peach gum to 50g.
Recipe by
Souper Diaries
at https://souperdiaries.com/peach-gum-and-pear-dessert/