Chinese Winter Melon Soup Recipe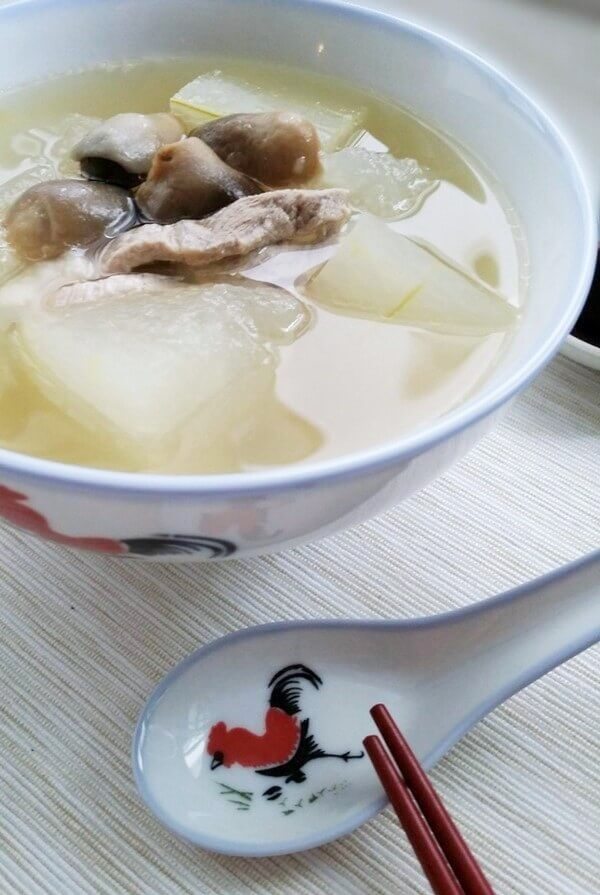 Recipe type:
Quick Boil Soup
700 g winter melon disc - cut into large cubes
200 g lean pork - sliced into thin strips
200 g straw mushrooms - cut into halves
50 g ikan bilis
30 g dried shrimps
1.2 litres water (or use just enough water to immerse all the ingredients)
Seasoning for Lean Pork
½ tbsp light soy sauce
½ tbsp shallot oil (can be substituted with sesame oil)
½ tbsp corn starch
splash of Shaoxing wine
dash of white pepper
Salt - to taste
Cut pork into thin slices of about 1cm width and season it with the marinade ingredients. Mix well and set aside.
Peel the winter melon skin with a sharp knife, remove the seeds and cut into large cubes.
Cut all the straw mushrooms into halves.
Rinse ikan bilis and dried shrimp. Place ikan bilis, dried shrimp and winter melon into a medium sized soup pot. Bring to a boil and simmer for about 25 minutes.
minutes before turning off the flame, add in sliced pork and straw mushrooms. Cover the pot and cook for about 3-5 minutes.
Season with salt to taste
Do not simmer the soup for too long or the lean pork will become tough and winter melon too soft.
Recipe by
Souper Diaries
at https://souperdiaries.com/chinese-winter-melon-soup-recipe/