Winter Melon with Barley Soup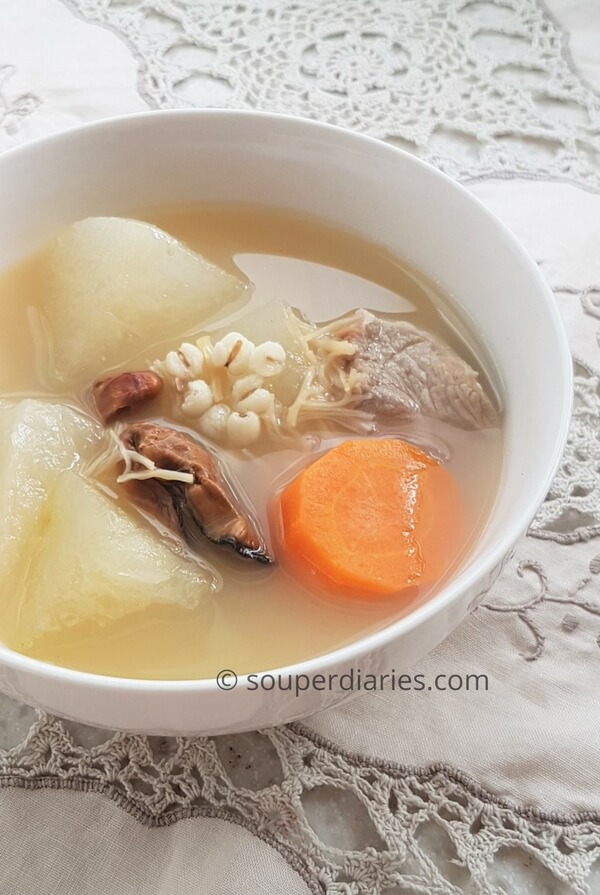 Recipe type:
Slow Simmer Soup
1 winter melon disc (about 600g) - peel skin and cut into chunks
300 g pork ribs
60 g barley (about ¼ cup) - washed
20 g dried small shrimp - washed and soaked for 5 minutes
1 carrot - peel skin and cut into bite-sized chunks
2 dried honey dates
5 dried oysters - washed
5 dried scallops - soaked in hot water till softened
6 cups water (or enough to cover the ingredients)
Salt to taste
Blanch pork ribs in a small saucepan of boiling water to remove impurities for about 5 minutes. Pour away the water and rinse the meat. Set aside.
Combine all the ingredients except winter melon into a soup pot (I used a clay pot) and bring to a boil. Then reduce heat to low and simmer for around 1.5 hours. Add the winter melon only in the last 30 minutes of cooking.
Season with salt to taste and serve.
If you want the winter melon to have more 'bite' and not become too soft, add them in the soup only in the last half hour of simmering.
Recipe by
Souper Diaries
at https://souperdiaries.com/winter-melon-with-barley-soup/