TEOCHEW STEAMED FISH RECIPE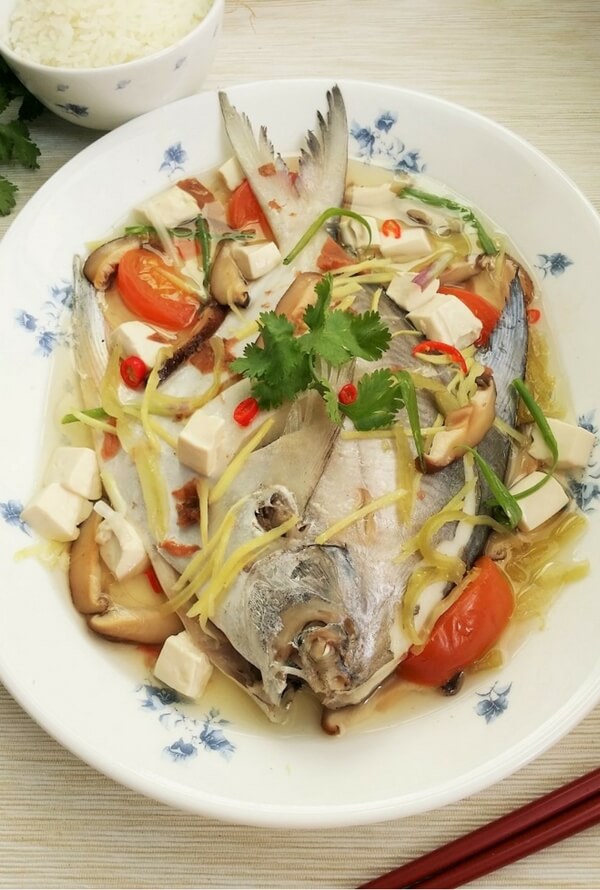 Recipe type:
Seafood Recipes
1 silver pomfret or Chinese pomfret
2 salted plums - remove seed and flesh mashed
20 g salted mustard green (kiam chye) - soaked in hot water for about 10 minutes and sliced finely
30g young ginger - julienned
a few slices of ginger - cut thickly
2 dried shiitake mushrooms - soaked till soften, stems removed and sliced finely
1 ripe small tomato - cut into small wedges
¼ block of tofu - cubed
7 tbsp of water (for the broth)
1 tbsp of shallot oil
Handful of parsley leaves
Spring onions - cut into fine strips
1 cili padi (bird's eye chilli) - sliced
Clean fish by doing a thorough removal of its entrails. (Best to have your local fishmonger do it for you). Rinse the fish. Make 2 slits on each side of the fish and pat dry.
Use a little salt and rub it all over the fish and its cavity. Rub half of the mashed salted plums into the cavity of the fish and put in the slices of ginger. Rub the remaining mashed salted plums onto the body of the fish.
Line a plate with some of the sliced ginger and shiitake mushrooms and put the fish on top of them. Add in water and the rest of the ingredients (except garnishing) on top of the fish and sides of the plate.
Fill a wok one quarter full with water. Place a steaming rack over the water and make sure it is above the water level. Bring water to a vigorous boil. Once the water boils, place the plate of fish in and steam on high heat till completely cooked for 10 minutes.
While waiting for the fish to be ready, heat up shallot oil till very hot. Once the fish is ready, remove from the wok. Scatter spring onions and bird's eye chilli on and around the fish and drizzle with hot shallot oil. Finally, garnish with parsley. Serve immediately.
For this medium sized fish (around 450g), steam for about 9 - 10 minutes on high heat. Steam for a lesser time if using a smaller fish. Do not oversteam the fish as it will turn the flesh tough.
Recipe by
Souper Diaries
at https://souperdiaries.com/teochew-steamed-fish/