Steamed Minced Pork with Salted Fish Recipe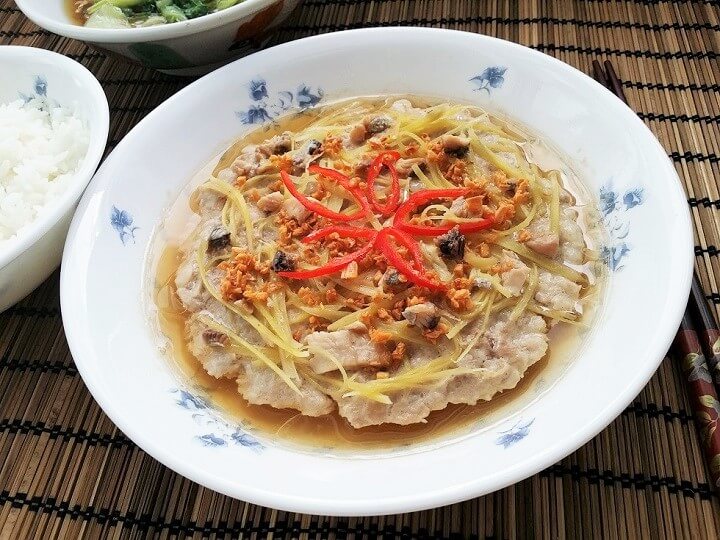 300 g minced pork (a mix of lean and fatty pork)
Mui Heong salted fish (use about 30g or more) - chopped into small pieces
Ginger (Julienned)
1/2 red chilli - deseeded and sliced
1 tbsp fried garlic bits and garlic oil
In a large bowl, add salt and corn flour into the pork mixture and mix well with your hands or a pair of chopsticks. Lift up the mixture and throw it into bowl 10-20 times so that it will be more 'springy'. Add the rest of the marinade ingredients into the meat and mix well. Set aside.
Heat up oil in a frying pan. Fry the salted fish pieces until fragrant. Add half of the fried salted fish into the pork mixture and mix well. Arrange the pork into a heatproof plate and press it down with the back of a spoon to smoothen it. Add the finely sliced ginger and remaining fried salted fish on top of the pork.
Fill a wok with about ¼ full of water, place your steaming rack in and bring it to a boil. Once the water starts boiling, place the pork dish on top of the rack. Close the cover and steam for about 10 minutes until the pork is completely cooked.
Remove carefully from heat. Garnish with sliced chillies and drizzle with garlic oil and fried garlic bits. Serve immediately with plain rice.
1. Wear a pair of disposable plastic gloves if you do not wish to handle the raw pork with your bare hands.
2. Fresh pork is preferred over frozen pork for this recipe.
Recipe by
Souper Diaries
at https://souperdiaries.com/steamed-pork-with-salted-fish/