Sambal Belacan as a relish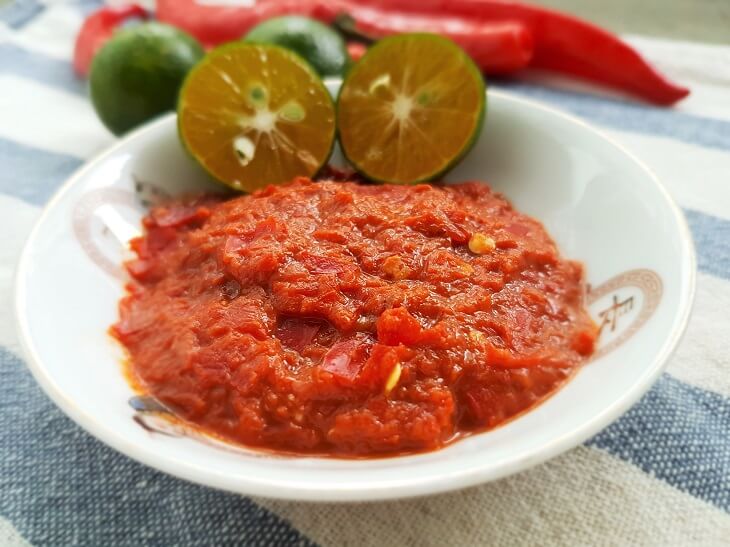 Recipe type:
Dips & Sauces
15 g belacan (shrimp paste) - toasted
8 red chilies (remove seeds but you can leave some insid)
Juice from 1 calamansi lime (another type of lime can be used if you can't find calamansi)
Fine sugar (to taste)
Toast the belacan in a pan until it dries out and become crumbly and powdery. Remove and set aside to cool.
Rinse chilies and pat dry with paper towels. Cut chilies into smaller pieces. Pound chilies and the toasted belacan with a pestle in a dry mortar. Scrape down the sides when necessary. Add a little sugar to taste and mix well.
Transfer the amount you want to serve into a small bowl. Add in lime juice just before serving. Keep any remaining sambal in a glass jar in the fridge and use within a week.
1. You may increase the amount of belacan used if you plan to use this as an ingredient in your cooking.
2. Wear disposable gloves when pounding the chilies to prevent chili burn.
3. To make sambal as a cooking ingredient, omit the sugar and lime. It is not necessary to toast the belacan as it will be cooked when you use it.
Recipe by
Souper Diaries
at https://souperdiaries.com/sambal-belacan-recipe/