Braised Shiitake Mushrooms Recipe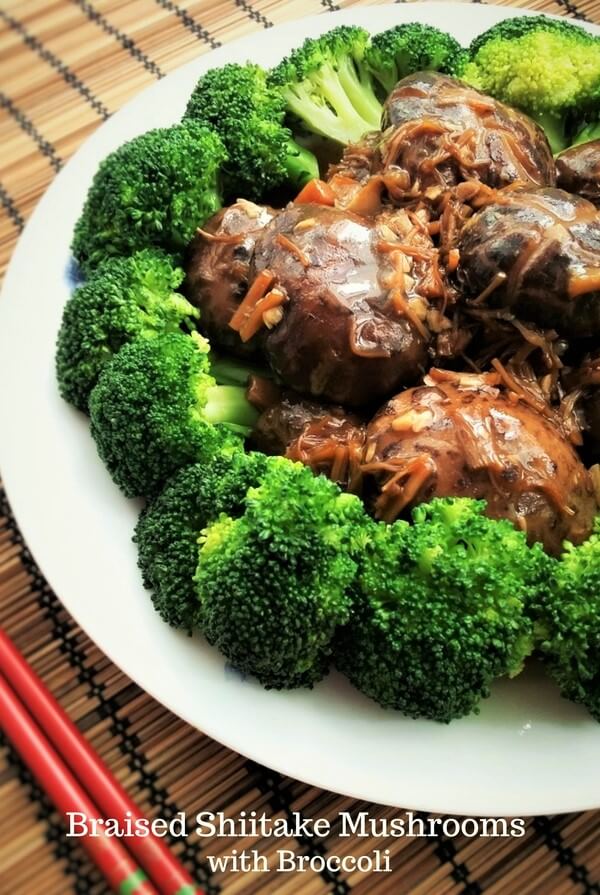 2 heads of broccoli - washed and cut into florets
20 dried Chinese mushrooms (soaked till softened and retain soaking water)
4 cloves of garlic - skin removed and chopped
5 dried scallops (soaked overnight and retain soaking water)
3 tbsp cooking oil
Marinate (for mushrooms):
1 tbsp light soy sauce
½ tsp salt
1 tbsp cornflour
Seasonings for braising:
2 tbsp oyster sauce
1 tbsp light soy sauce
½ tsp salt - or to taste
1 cube of rock sugar - or to taste
To prepare mushrooms, cut off the stems and squeeze out some of the water. Mix the mushrooms with the marinade ingredients and set aside for about 15-20 minutes.
Heat up oil in a medium sized pot. Stir-fry the chopped garlic till fragrant. No need to brown. Then add in the dried scallops and continue to stir fry for awhile.
Add in mushrooms and stir-fry for 1-2 minutes. Pour in the oyster sauce and light soy sauce and continue to stir-fry. Pour in reserved mushroom water and dried scallop water. Mix everything well and bring to a boil.
Once boiling, lower heat and simmer for about 45 minutes to an hour until the mushrooms are soft and the sauce reduced considerably (about ¼).
While braising the mushrooms, prepare to blanch the broccoli in boiling water. Add 1 tsp of cooking oil and 1 tsp of salt into the water. Blanch broccoli for about 1-2 minutes. Remove with a slotted spoon and arrange on a serving plate to form an outer circle.
Taste the mushrooms and sauce before you turn off the gas. Adjust the seasonings if necessary. When ready to serve, arrange the mushrooms in the center of the serving plate and pour some of the gravy over the mushrooms. Serve hot.
1. Check on the mushrooms during the braising process to ensure that there is sufficient sauce.
2. You can also use abalones, sea cucumbers or dried oysters in place of dried scallops.
3. Broccoli may be replaced with other vegetables (lettuce, bok choy, etc)
Adjust amount of mushrooms according to the number of people eating.
Recipe by
Souper Diaries
at https://souperdiaries.com/braised-shiitake-mushrooms-with-broccoli/