STIR-FRIED PORK WITH SALTED VEGETABLES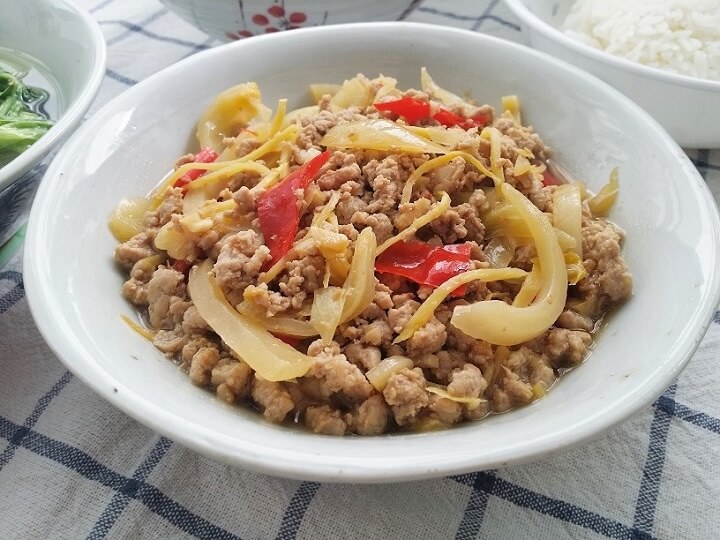 Recipe type:
Pork Recipes
80 g salted vegetable – soaked for about 10 - 15 minutes
200 g minced pork (seasoned with 1 tbsp soy sauce and 1 tbsp fried shallot oil)
3 cloves of garlic – chopped
40 g ginger – cut into thin strips
1 fresh red chili – deseed and cut into thin slices or small pieces
1 – 2 tbsp light soy sauce – to taste
½ tbsp dark soy sauce (or more if you prefer a darker color)
¾ cup water
Discard soaking water for the salted vegetables. Cut into strips.
Heat up oil in a wok/medium sized pot till very hot.
Add garlic and fry till fragrant and translucent before adding the sliced ginger. No need to brown.
Add chilies and continue to stir-fry for a few seconds.
Using high heat, wait for a few more seconds for the pot to heat up. Then, add minced pork and stir so that it does not clump.
Keep stirring for about 3-5 minutes and break any clumps with your spatula if necessary.
Add salted vegetables and mix everything well.
Pour in 1 tbsp light soy sauce, ½ tbsp dark soy sauce and about ¾ cup of water. Turn heat to medium-high. Cover with lid and simmer for about 2 - 3 minutes.
Taste and adjust seasonings if necessary. Serve hot with rice or porridge.
Recipe by
Souper Diaries
at https://souperdiaries.com/stir-fry-pork-with-salted-vegetables/