Steamed Chicken with Black Fungus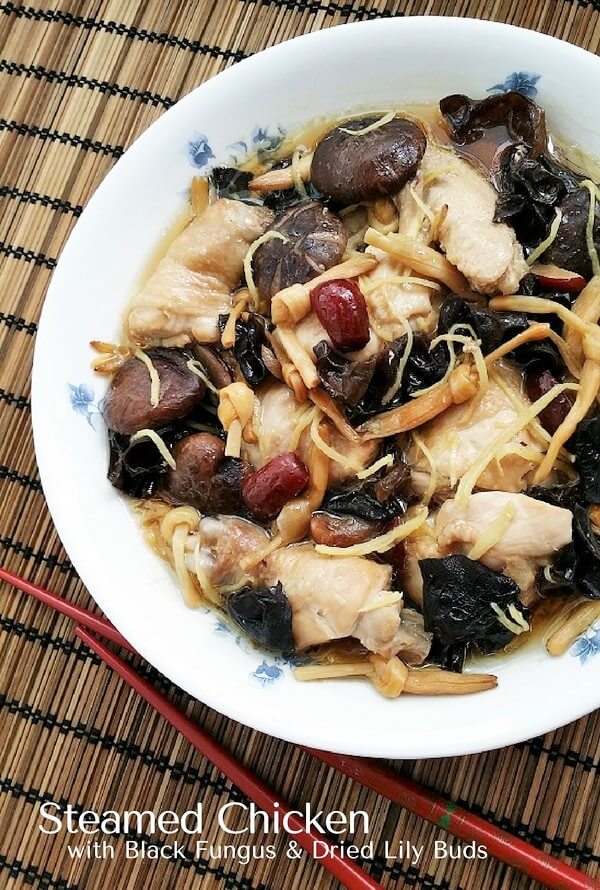 Recipe type:
Chicken Recipes
450 g fresh on-the-bone chicken - washed and cut into small pieces
10 g black fungus - soaked till soft enough to cut off hard stems. Then shred into smaller pieces.
15 g dried lily buds - tied into a knot and soaked till soft for about 15 minutes
5 dried red dates - cut into smaller pieces and remove seeds
6 dried shiitake mushrooms - soaked till soften and cut off the hard stems
30 g ginger - peeled and julienned
1 tbsp goji berries (optional)
5 tbsp water
In a large bowl, mix chicken, black fungus and mushrooms with the marinade ingredients for at least 30 minutes.
Prepare your steamer. Fill a wok/pot with about ⅓ water and bring it to a boil.
Meanwhile, add the rest of the ingredients into the bowl of marinated chicken and mix well.
Arrange them in a single layer on a wide steaming plate and steam on medium-high heat for about 15 to 20 minutes or until chicken is cooked.
Serve hot.
The longer you marinade the chicken, the more flavorful it will be. You can marinade the chicken and leave it overnight in the fridge if you wish.
Recipe by
Souper Diaries
at https://souperdiaries.com/steamed-chicken-with-black-fungus/