FRIED FISH IN YELLOW BEAN SAUCE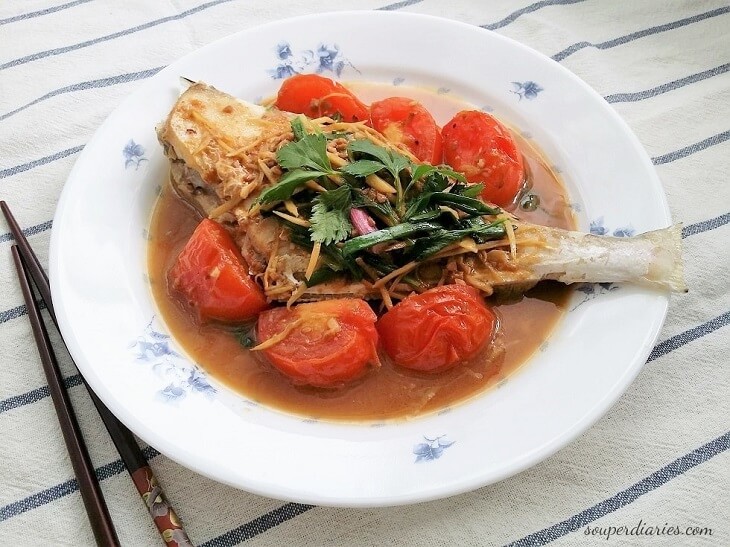 Recipe type:
Seafood Recipes
1 leatherjacket fish (about 350 g) - skinned (or use any white fish)
1¼ tbsp yellow bean paste
30 g ginger - julienned
2 - 3 cloves of garlic - minced
1 tomato - cut into small sections
3 - 4 stalks of spring onions - cut to 1 " length
Flat-leaf parsley - washed and separate leaves from stalks
½ tsp sugar
½ cup water (increase if you want more gravy)
Wash the fish. Pat dry and lightly dust with salt and corn flour. Set aside. Get ready the rest of the ingredients.
Heat up oil in a wok. Once the oil is very hot, slowly slide in the fish and lightly brown both sides. Remove and put it aside.
Heat up the remaining oil in the wok. Add more oil if necessary. Add garlic and ginger and fry for about a minute before adding the yellow bean paste. Fry till aromatic.
Add sugar and water. Mix everything well and have a quick taste. Adjust seasoning if desired. Add a little more water if too salty or some soy sauce if it is not salty enough. Then put in tomatoes and let it cook for about a minute.
Push the tomatoes to the side of the wok and put the fried fish in the middle of the wok. Lower the heat and close the cover. Simmer for about 2 minutes. Then open the cover and carefully turn the fish to the other side and let it simmer for another 2 minutes. This is to let the fish absorb the gravy.
Finally, add spring onions and parsley and cook for another 30 seconds. Remove and serve immediately with rice.
Recipe by
Souper Diaries
at https://souperdiaries.com/fried-fish-in-yellow-bean-sauce/