CHINESE WATERCRESS SOUP RECIPE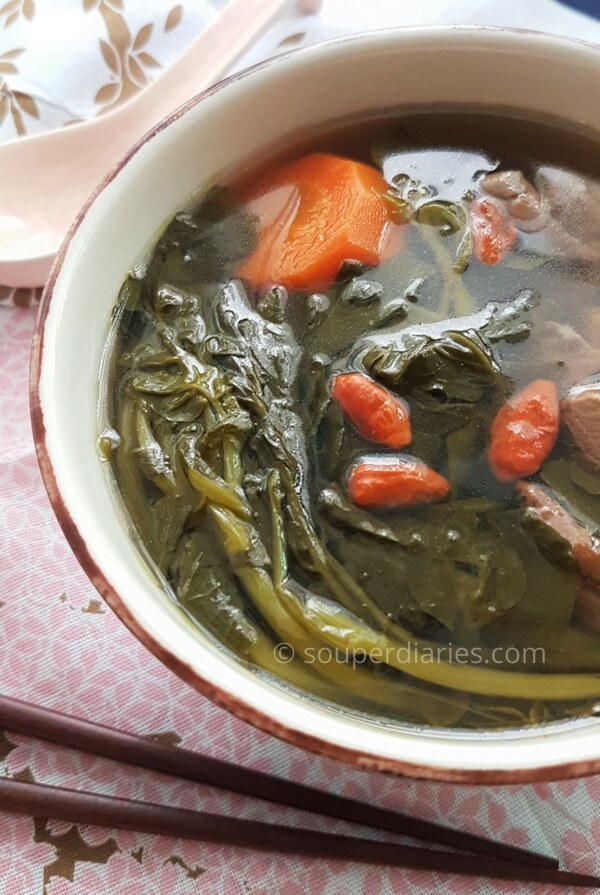 Recipe type:
Slow Simmer Soup
1 bunch of watercress - ends trimmed and washed
300 g pork ribs
6-8 dried red dates
1 carrot - peeled and cut into large pieces
6-8 dried oysters
3 tbsp of goji berries
2 honey dates
20 g ikan bilis (dried anchovies) - rinsed
6 cups water
Salt - to taste
Blanch the pork ribs in a pot of boiling water for about 5 minutes to remove surface scum. This process makes for a clearer soup. Remove, rinse and set aside.
Transfer all the ingredients into a soup pot and bring to a boil. Once it is boiling, turn to the lowest heat and simmer for about 1.5 to 2 hours or until pork ribs are soft.
Season with salt to taste.
1. You can substitute pork with chicken meat or chicken carcass or even a mixture of both.
2. Add in watercress about an hour into the cooking time if you don't want the watercress to be too soft.
Recipe by
Souper Diaries
at https://souperdiaries.com/watercress-with-pork-ribs-soup/