Chinese Lemon Chicken Recipe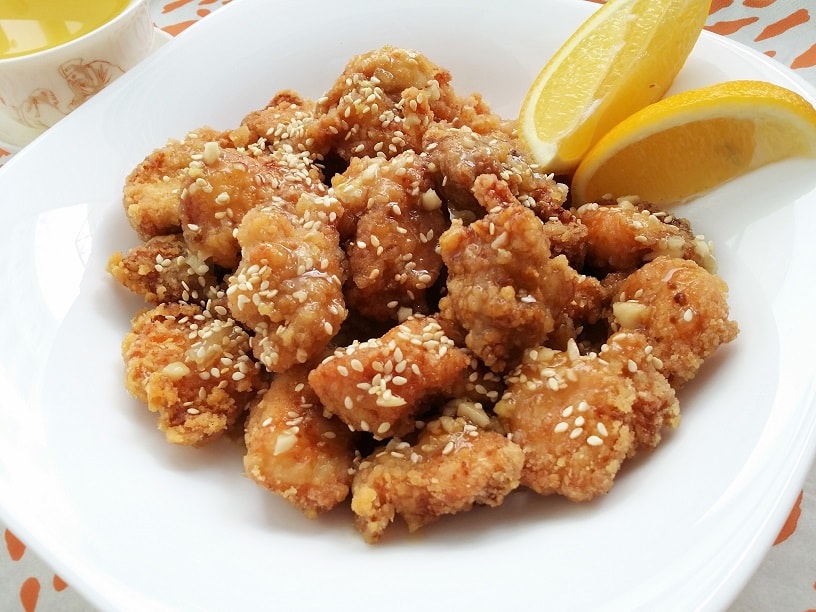 Recipe type:
Chicken Recipes
2 boneless & skinless chicken thighs or 2 chicken breasts – cut into bite-sized cubes
1 tsp white sesame seeds – lightly toasted
Vegetable oil or peanut oil for frying
For Marinade:
1 tsp light soy sauce
½ tsp sesame oil
¼ tsp salt
For Dredging:
All purpose flour (sifted) – Amount depends on how much chicken you use
1 egg – beaten
Salt – sprinkle generously into the flour
For Sauce:
½ cup of chicken stock
½ tsp lemon zest
3 tbsp lemon juice
1 clove of garlic
Sugar to taste
Slurry:
¾ tbsp cornstarch, dissolved in 2 tbsp water
Cut the chicken into bite-size pieces.Pour the marinade onto the chicken pieces and mix well. I like to massage the marinade in with my hands. Cover and let it sit for at least 10 minutes. Put in the fridge if you're making it a few hours later or the next day.
Lightly toast the white sesame seeds in a dry frying pan or saucepan on low flame. Transfer the seeds to a small bowl and set aside.
Prepare your sauce. In a saucepan, heat up a tablespoon of oil. Swirl to coat the bottom. Pour in minced garlic and cook briefly for about 30 seconds till fragrant. No need to brown. Add chicken stock, lemon juice, lemon zest and sugar. Stir and bring it to a simmer. Do a quick taste. Add more sugar if it is too sour. Then slowly pour in cornstarch slurry to thicken the sauce to your preferred consistency.
To fry, dip the chicken pieces into the beaten egg first and then coat with the all purpose flour.
Heat up oil in a wok or large skillet over medium-high heat. Once hot, carefully add the chicken pieces into the wok and deep-fry 2-3 minutes on both sides until golden brown. Do this in 2 or 3 batches and don't crowd the wok. Let the oil heat up again before putting in the next batch. Don't overcook the chicken pieces or the meat will be tough.
Remove the chicken with a slotted spoon and drain on the slotted spoon itself for a while with a plate lined with paper towels below.
Pour lemon sauce over the chicken and coat well just before serving. Sprinkle the toasted sesame seeds and lemon slices (if using).
1. If you're using chicken thighs, make sure to debone them. Get the butcher to do it for you to save you time. I also request the skin to be removed and I keep the bones in the freezer to make homemade chicken stock.
2. Pound chicken between 2 sheets of plastic if it is too thick.
Recipe by
Souper Diaries
at https://souperdiaries.com/chinese-lemon-chicken/