Stir Fried Kailan with Oyster Sauce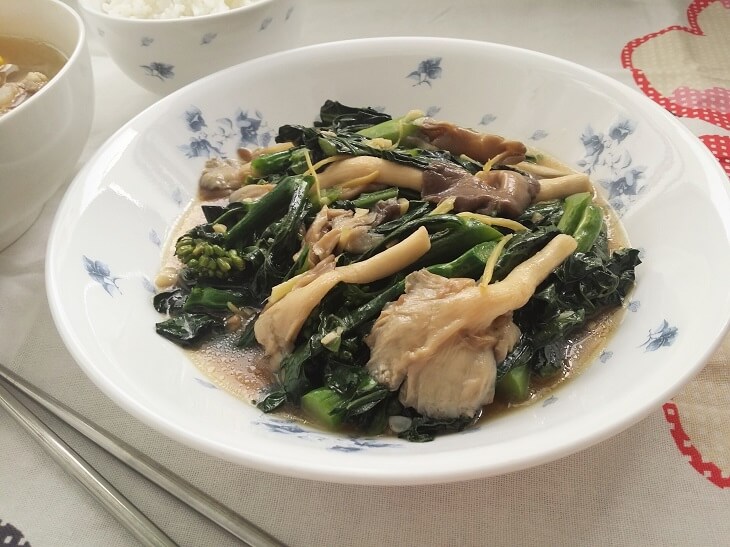 1 bunch of kailan (about 240g)
2 tbsp vegetable oil
2 garlic cloves - minced
1 knob of ginger - julienned (or cut into thin slices if preferred)
50 g oyster mushrooms - shred into half (optional)
For the Sauce:
1½ tbsp oyster sauce
½ tbsp light soy sauce
1 tbsp Shao Xing wine
2 tbsp water
¼ tsp salt
Slurry (To Thicken Sauce) - Mix well
1½ tsp corn starch
2 tbsp water
Wash kailan thoroughly and drain. Using a vegetable peeler or paring knife, peel off the outer layer of the kailan stems. Cut the stem into half if it is too thick. Separate the stems and leaves. Set aside.
Heat up oil in a wok. When the wok is hot, saute ginger for about a minute. Lower the heat then add garlic and stir fry till fragrant.
Increase the heat to medium-high. Pour in kailan stems and fry for about a minute before adding the kailan leaves and oyster mushrooms. Stir-fry for about 2 minutes.
Add the sauce and mix well with the kailan. Stir for another 1 - 2 minutes until the stems and leaves soften.
Pour in the slurry. Add a little water if you find that it is too dry. Mix well with the kailan.
Turn off heat. Remove kailan from the wok and serve immediately.
1. You can replace the oyster mushrooms with other types of mushrooms or vegetables (carrots, baby corn, etc) if you prefer.
2. Fried garlic/shallot bits can be sprinkled over the kai lan for extra texture and flavour.
Recipe by
Souper Diaries
at https://souperdiaries.com/stir-fried-kailan-with-oyster-sauce/