Chinese Sweet Corn Soup with Pork Ribs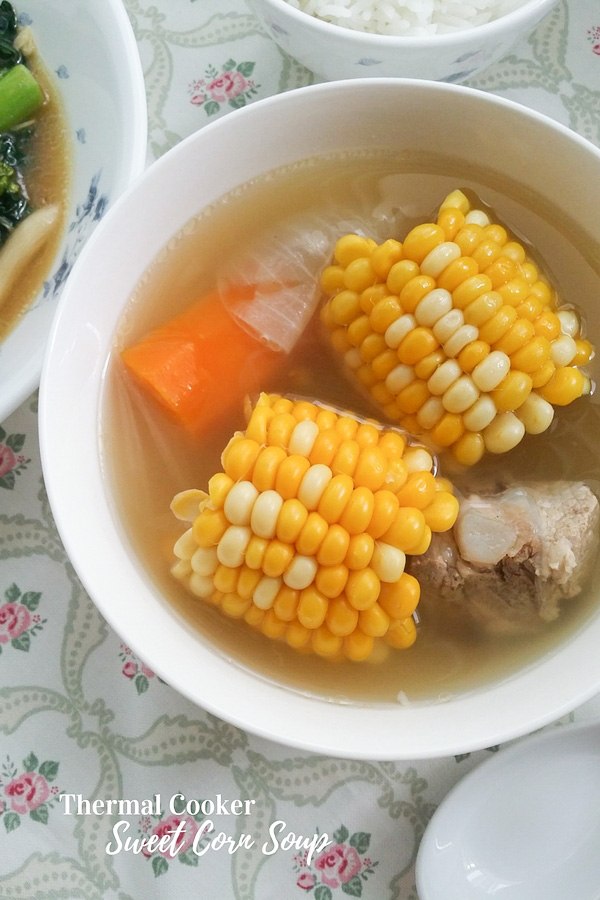 Recipe type:
Slow Simmer Soup
1 pound of pork ribs
2 fresh corn on the cob - cut into chunks
1 carrot - peeled and cut into bite-sized chunks
1 large red onion - cut into quarters
20 g ikan bilis (dried anchovies) - rinsed
4 dried honey dates
8 cups of water
Bring a small pot of water to a rolling boil. Parboil the pork ribs for about 5 minutes to remove scum and dirt. Remove and set aside.
Place the pork ribs, corn, red onion, ikan bilis, dried honey dates and water into the inner pot. Bring to a boil. Once the water boils, reduce the heat and let the soup simmer for at least 30 minutes or until 45 minutes.
Turn off the fire and make sure the inner pot is covered with the lid. Transfer the inner pot into the outer pot.
Close the outer lid and leave it for 2 hours for the trapped heat to continue cooking.
After 2 hours, the soup is ready. Open the lid of the outer pot first. Then open the lid of the inner pot carefully. Season with salt if preferred. Serve immediately.
1. Pork ribs can be replaced with chicken if preferred.
2. If you're using a regular stovetop pot, follow the par-boiling method in step 1. Thereafter, place all the ingredients in your soup pot. Bring to a boil and then lower the heat and simmer for about 2 hours or until the pork ribs is tender.
Recipe by
Souper Diaries
at https://souperdiaries.com/thermal-cooker-chinese-sweet-corn-soup-recipe/