Nyonya Curry Chicken Recipe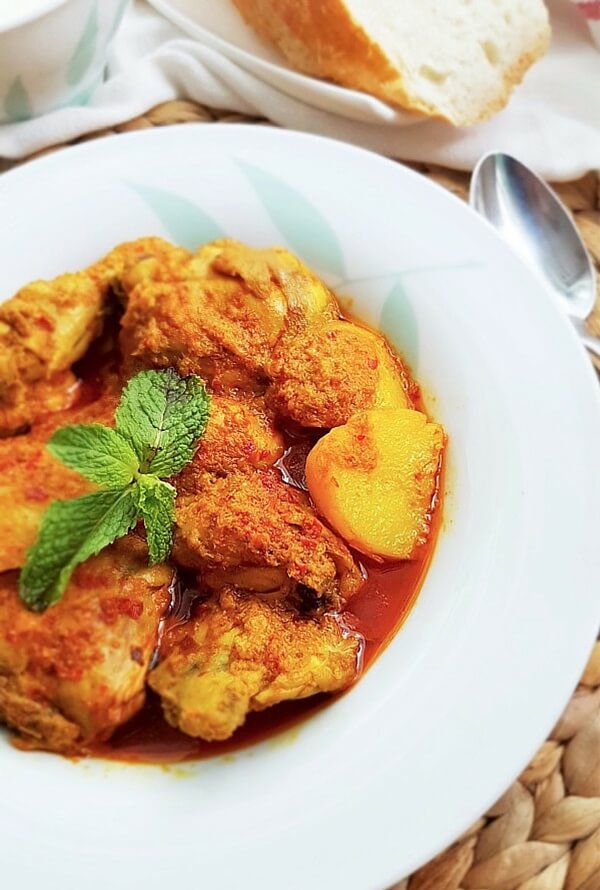 1 fresh chicken (about 1kg) - remove head, feet and skin and chopped into pieces
5 tbsp cooking oil
3 potatoes
1 stalk of lemongrass - white part only and lightly smashed
1 cup plain yogurt
1.5 cup water
Sea salt - to taste
Optional: Mint leaves for garnishing
Spices A
4 tbsp coriander seeds
1 tbsp cumin seeds
Spices B
15 dried chilies - soaked in warm water until soft. Drain and snip each chili into 3 cm pieces.
10 shallots - peeled
5 cloves of garlic - peeled
20 gm ginger - peeled and cut into a few pieces
20 gm fresh turmeric - peeled and cut into a few pieces
Lightly fry Spices A (coriander seeds and cumin seeds) in a dry wok till fragrant.
Wash and drain chicken. Set aside and cover. Parboil potatoes in a small saucepan till three-quarters cooked. Let cool. Peel and cut into wedges.
While boiling the potatoes, pound spices A and B separately till fine using a pestle and mortar. You can also use a grinder to grind the spices B if preferred.
Heat oil in a pot. Add all pounded/blended ingredients and lemongrass. Reduce heat and fry paste till fragrant and oil bubbles through. Be careful not to burn the curry paste. Add 2 tbsp of yogurt if the paste becomes dry.
Add chicken and stir to coat the chicken parts evenly with the spices. Fry for about 3 - 5 minutes. Add water. Stir, cover with the lid and let simmer for around 15 minutes. When the chicken is nearly cooked, add potato pieces. Continue to simmer for about 5 minutes more until potatoes are cooked through. Add yogurt and stir to mix well. Salt to taste.
Dish out and serve hot with rice, baguette or bread.
1. Get the butcher to chop the chicken to save some preparation time. Best to have the chicken skin removed otherwise the curry will be very oily.

2. Remove some of the seeds from the dried chilies after you cut them if you prefer a less spicy curry.

3. Use fresh spices if possible. Spices that have been kept for too long will lose some of its fragrance and potency.

4. You can add more water if you wish but not too much or the curry will be diluted.
Recipe by
Souper Diaries
at https://souperdiaries.com/nyonya-chicken-curry-recipe/