CURRY CHICKEN WITH POTATOES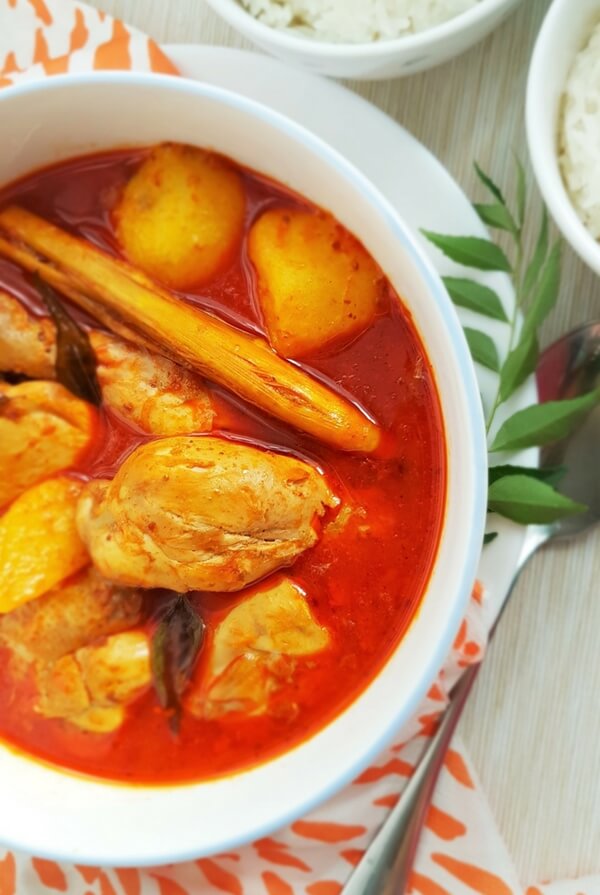 Recipe type:
Chicken Recipes
Fresh chicken parts (about 1kg)
1 packet instant curry chicken paste
3 to 4 potatoes - peeled and cut into wedges
2 lemongrass - white part only (bruised)
5 shallots - peeled and cut into thin slices
1 sprig of curry leaves
1 cup plain yogurt
2 tbsp cooking oil
2 cups water (refer to notes)
Salt
Heat oil in a deep pot. Stir-fry shallots till fragrant. Add lemongrass, curry leaves and curry paste and stir fry till it is fragrant and oil bubbles through. Keep the heat moderately low and be careful not to burn the paste.
Add chicken pieces and stir to coat well with the curry paste. Fry for 3-5 minutes before adding water. Cover and bring to a boil.
Once it starts boiling, add potatoes and simmer on low heat for another 10 - 15 minutes or until the chicken is tender and the potatoes are cooked through. Season with salt to taste.
Turn off heat. Add yogurt a spoonful at a time and mix well. Serve immediately with some steamed rice or bread.
1. Adjust water as necessary. Use just enough to cover the chicken.
2. The yogurt will curdle if it is exposed to high heat so add it towards the end.
Recipe by
Souper Diaries
at https://souperdiaries.com/easy-curry-chicken-recipe/