Steamed Stuffed Bitter Gourd with Minced Pork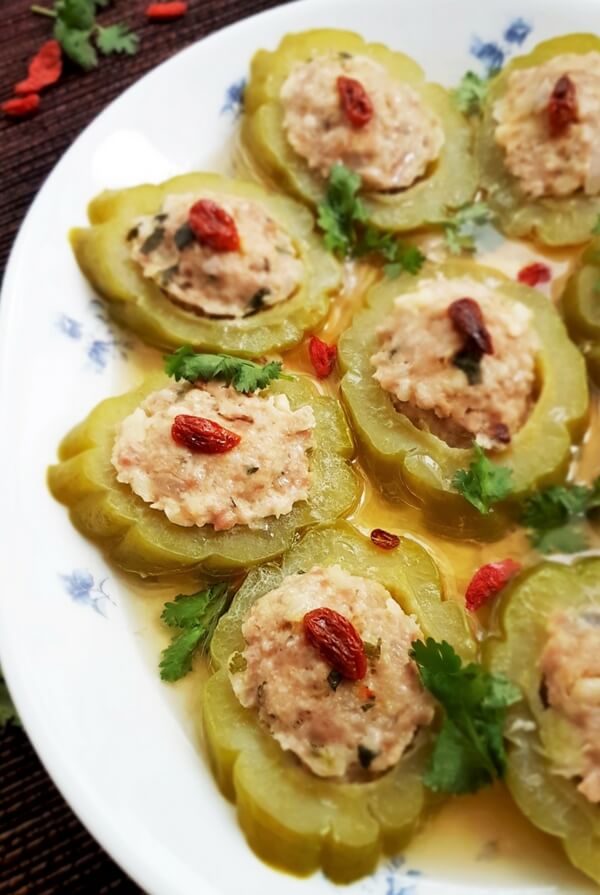 1 medium sized bitter gourd (about 400g)
300 gm minced pork
1 small red onion (60 g) - chopped
4 water chestnuts - roughly chopped
Goji berries (wolfberry seeds) - 1 for each bitter gourd ring
½ tbsp fried shallot oil (for drizzling)
Seasonings
1 tbsp oyster sauce
1 tbsp light soy sauce
½ tsp of salt
A little pepper
½ tbsp fried shallot oil
1 tbsp corn flour
½ tbsp water
Rinse bitter gourd and cut into 1 cm thick rings. Remove seeds and white spongy part with a spoon.
To reduce the bitter taste, sprinkle salt liberally on the bitter gourd rings. Mix well and let stand for 30 minutes. Drain away juices. Rinse 2 - 3 times and set aside. If you don't mind the bitter taste, skip this step and proceed to step 3.
Meanwhile, combine minced pork with the chopped red onion, water chestnuts and seasonings. Mix well with a spoon or a pair of chopsticks.
Stuff the bitter gourd cavities with the minced pork mixture making sure there're no gaps. Let the meat bulge a little. Smooth the paste with the back of a spoon.
Place 1 goji berry on top of each stuffed bitter gourd. Scatter some on the plate. Arrange the bitter gourd rings on a heatproof plate. Drizzle with ½ tbsp of fried shallot/garlic oil.
Bring water to a boil in a wok. Put the plate on a steamer and place it on top of the wok. Steam on medium-high heat for 15 minutes OR 20 minutes if you want the bitter gourd to be softer. Don't steam for too long or the bitter gourd will become mushy.
Turn off heat and remove from the wok. Garnish with coriander leaves and serve immediately.
1. If you don't have a steamer, you can also place a trivet on the wok and carefully lower the plate on the trivet when the water comes to a boil.
2. Depending on how much meat you use to stuff each bitter gourd, you may have some leftover meat. Suggestion: Use them to make meatballs and steam them together with the bitter gourd rings.
Recipe by
Souper Diaries
at https://souperdiaries.com/steamed-bitter-gourd-stuffed-with-minced-pork/