Pig Trotter with Ginger and Black Vinegar Stew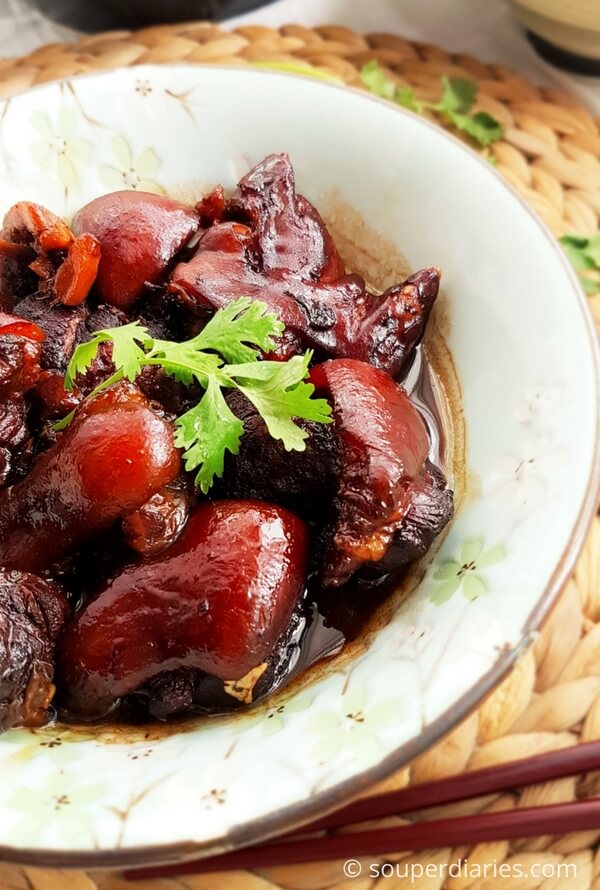 1 fresh pig's trotter (foreleg) - about 1 kg (get the butcher to chop into smaller pieces)
Sesame oil - 2 tbsp
100 g old ginger
100 g young ginger
80 g brown sugar (adjust to taste)
400 to 500 ml water
300 ml sweet black vinegar (I used Doggie brand) - add more if required
100 ml Zhe Jiang black vinegar (optional)
Salt to taste
Cooking Equipment
Wok and Claypot
Wash pig's trotters. Remove hair if any. Blanch them in boiling water for about 5 minutes to remove scum and excess blood. Remove and rinse with tap water. Set aside.
Scrape off the skin from the gingers with the back of a teaspoon. Cut into big pieces and bruise them with a pestle and mortar or the flat part of a cleaver.
Heat sesame oil in a wok. Fry both old and young ginger till fragrant. Add trotter and stir for another 5 minutes.
Transfer ginger and trotter pieces to a clay pot. Pour vinegar, water and sugar into the claypot and bring to a boil. Lower heat and simmer for about 30 minutes.
Taste and adjust the vinegar stew if necessary. Simmer for another 30 - 45 minutes depending on how soft you'd like the meat to be. Season with salt. You can serve and eat it immediately but it will taste better if you wait as the trotters continue to soften and absorb the flavors of the vinegar.
1. Don't use too much water and vinegar or the stew will become soupy.
2. Increase the amount of ginger and sesame oil if you're cooking this as a confinement dish.
3. Cast iron, metal, aluminium and non-stick pots are not recommended as they may react to the acidic vinegar. Use cookware made of clay, glass or ceramic. Crock pot can also be used.
4. Do not let the meat cook for too long with the vinegar. This will cause the stew to become sticky as the gelatine from the pig's skin melts.
Recipe by
Souper Diaries
at https://souperdiaries.com/pig-trotter-with-ginger-and-black-vinegar/