Braised Bitter Gourd with Chicken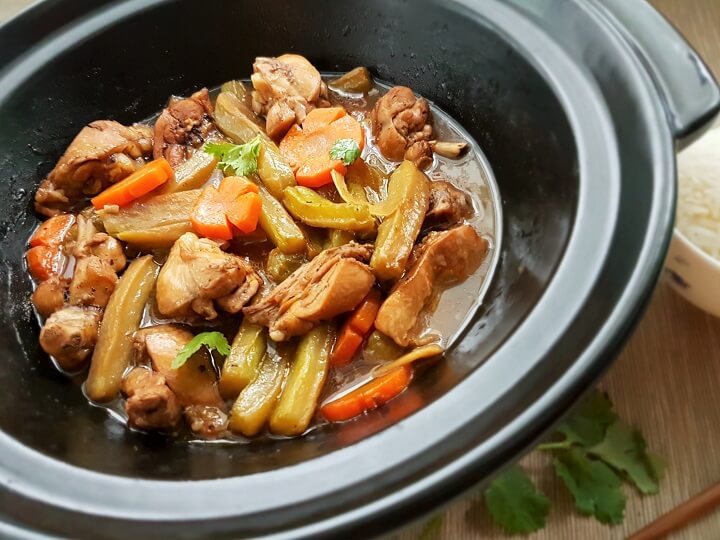 Author:
Yvonne Oh (adapted from Hawkers' Fair Simplified)
Recipe type:
Chicken and Vegetable Recipe
2 chicken thighs - skin removed and cut into pieces (about 400 g)
1 small bittergourd (about 400 g) - remove seeds and cut into thick strips
1 small carrot - cut into slices
Ginger (20 g) - cut into thin pieces
3 cloves garlic - minced
Oil for frying - 2 tbsp
Seasonings
1 tbsp oyster sauce
1 tbsp light soy sauce
1½ tbsp fermented black beans
Shaoxing wine
150 ml water
1 tbsp cornstarch (mixed with 3 tbsp of the gravy from the stew to make a slurry. Use more cornstarch if you want a thicker sauce)
Salt to taste
Cooking equipment
To reduce the bitterness, rub bitter gourd slices with salt. Let sit for 10 - 15 minutes then rinse. If you don't mind the bitter taste, you may skip this step.
Heat up oil in a wok or claypot. Stir-fry bitter gourd and carrots for about 3 minutes. Remove and set aside.
Add ½ tbsp of oil if required. Stir-fry garlic, ginger and fermented black beans till fragrant. Add chicken and fry till the surface is no longer pink.
Return the bitter gourd and carrot slices to the claypot. Pour in seasonings and mix everything well. Add water. It may seem a little but the gravy will be just nice when the stew is done. Cover and bring to a boil. Then reduce heat and simmer for about 15 to 20 minutes until the chicken is tender.
Have a quick taste. Adjust seasonings or liquid if necessary. Add salt to taste. Once you're satisfied with the taste, pour in the corn starch slurry to thicken. Finish off with a splash of shaoxing wine.
The chicken in this recipe can be replaced with pork ribs if preferred.
Recipe by
Souper Diaries
at https://souperdiaries.com/claypot-chicken-with-bitter-gourd/