Hairy Gourd with Pork Balls and Glass Noodles Soup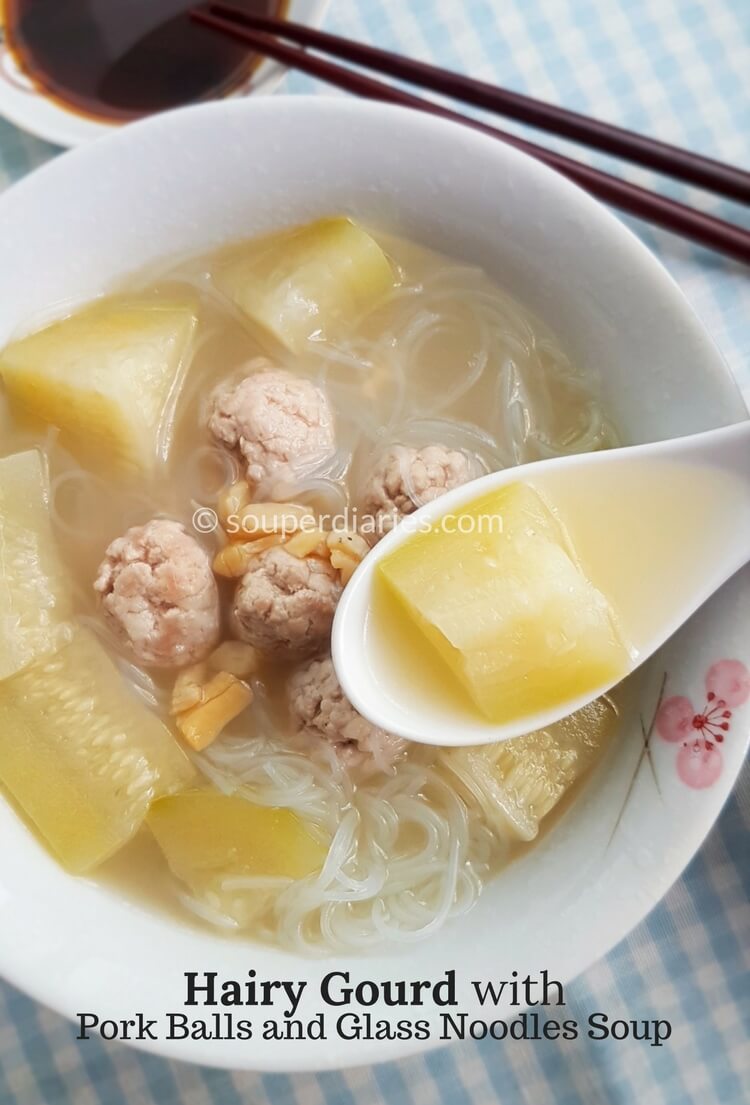 Recipe type:
Quick Boil Soup
1 medium sized hairy gourd - peeled and cut into small chunks
150 g minced pork
50 g glass noodles - soaked and discard water
4½ cups water
1 tsp cooking oil
Soup Base
20 g dried silverfish - rinsed
20 g small dried scallops - soaked in some water and retain soaking water
3 cloves garlic - minced
Marinade for Pork Balls
1/2 tbsp light soy sauce
1 tsp fried shallot oil (or sesame oil)
½ tsp salt
1 tsp corn flour
Dashes of white pepper
Soak the glass noodles. Shape minced pork into small balls. Set aside.
Heat up oil in a soup pot. (I used a clay pot) Stir fry minced garlic and dried silverfish for about a minute till fragrant.
Pour in water (including soaking water for dried scallops). Add hairy gourd and small dried scallops and bring to a boil. Once it boils, reduce heat and simmer for at least 30 minutes (you may simmer for 15 - 30 minutes more if you prefer the hairy gourd to be softer).
Gently tip in pork balls. Let boil for about 5 minutes till they are thoroughly cooked. Add glass noodles and cook for another 1-2 minutes more.
Dish up and serve right away.
1. If you don't plan to consume this immediately after cooking, add the mung bean noodles later as they will absorb some of the soup if not eaten right away.
2. Pork balls can be replaced with sliced lean pork if preferred.
Recipe by
Souper Diaries
at https://souperdiaries.com/hairy-gourd-with-pork-balls-soup/