Chinese Shrimp Fried Rice Recipe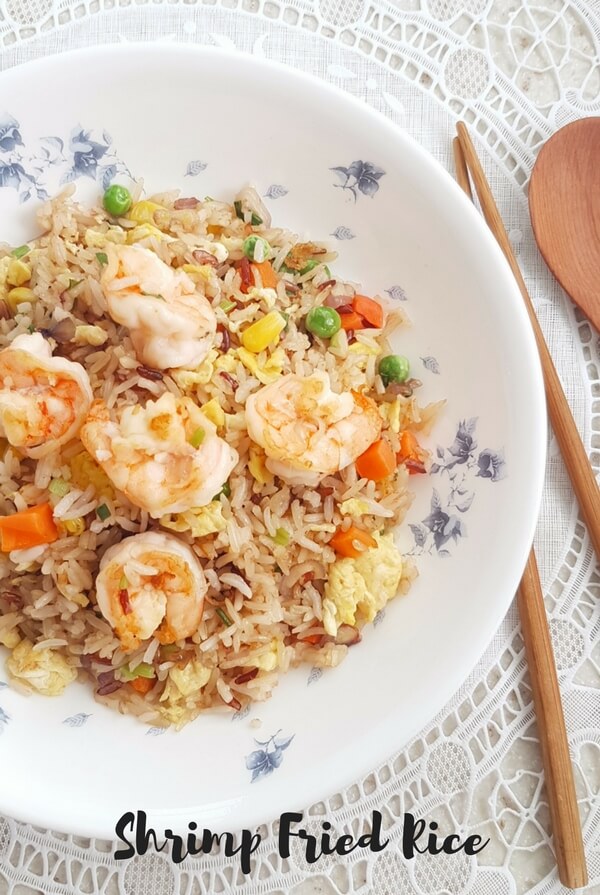 Recipe type:
Rice Recipes
2 cups cooked rice (refrigerated overnight) - loosen rice and break up clumps
100 g shrimps - shelled and deveined
3 cloves garlic - minced
3 shallots - sliced finely
2 eggs (add 1 tsp of light soy sauce and whisk)
½ cup mixed vegetables
3-4 stalks of spring onions - chopped
2 tbsp cooking oil
1 tbsp sesame oil
1 tsp light soy sauce
½ tsp salt
Heat up 2 tbsp of oil in a wok till very hot. Swirl to coat the surface of the wok. Add beaten eggs and do a quick scramble till it is about 70% cooked.Remove from wok and set aside.
Heat up remaining oil on the wok. Add slightly more oil if needed. Add the shrimps and cook till they're about 70% done. Dish up and put them together with the eggs.
Pour in the sesame oil. Add garlic and shallots and fry for a few seconds till fragrant. No need to brown. Pour in rice. Toss and mix to coat them well with the oil.
Add mixed vegetables. Drizzle light soy sauce and sprinkle some salt over the rice. Toss the rice. Put the egg and shrimps back into the wok and toss frequently. Mix everything well. Fry till the rice is drier. Dish up and serve immediately.
1. Thawed frozen raw shrimps can also be used instead of fresh shrimps.
Recipe by
Souper Diaries
at https://souperdiaries.com/chinese-shrimp-fried-rice-recipe/