Chinese Sausage with Cabbage Rice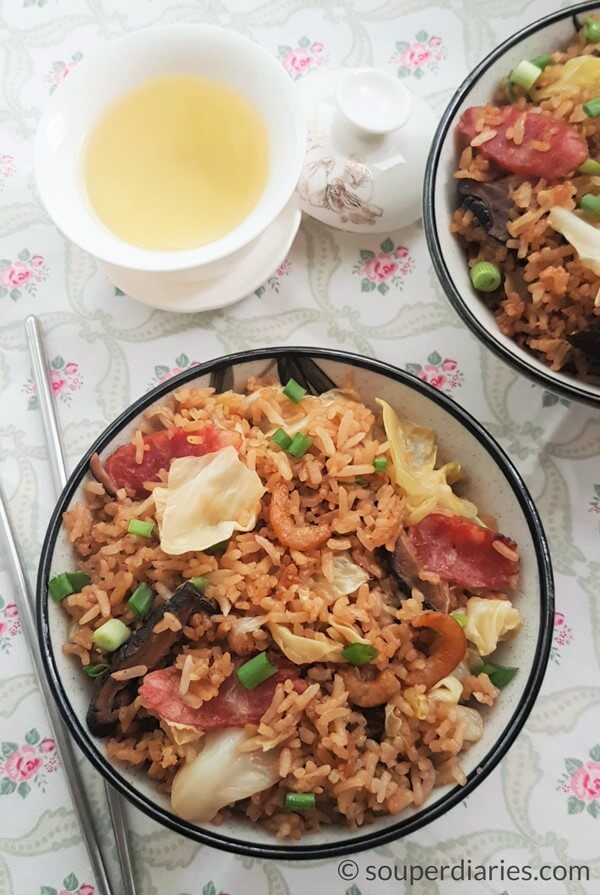 Recipe type:
Rice Recipes
2 rice cooker cups uncooked rice - rinsed a few times and drained
1 medium sized cabbage (about 500 g) - Cut into large pieces, rinsed and drained
40 g dried shrimps - soaked till soften, drained
4 shallots - peeled and sliced thinly
2 Chinese sausages (lap cheong)- washed briefly, remove casing and slice diagonally
100 g lean pork - sliced thinly across the grain (optional)
5 dried shiitake mushrooms - Soaked till soften and reserve soaking water
2 tbsp cooking oil
1 tbsp light soy sauce
1 tsp corn starch
1 tbsp light soy sauce
½ tbsp dark soy sauce
1 tbsp Shao Xing wine
½ tbsp oyster sauce
1 tsp sesame oil
¼ tsp sea salt
Dashes of white pepper
Water ( seasoning + water should add up to 300ml or 1¼ cup ) - use the mushroom soaking water
Spring Onions
Fried shallots (optional)
Sesame oil (optional)
Cut or trim off the hard stems from mushrooms. Gently squeeze out excess water from each caps. Slice them thinly and marinate them together with the lean pork. Set aside.
Put all the sauce ingredients in a bowl and mix well. Set aside.
Heat up oil in a wok over medium-high heat. Fry the shallots for a while before adding dried shrimps. Fry till fragrant. Add the Chinese sausage slices and stir fry till fragrant.
Add pork slices and mushrooms and continue to stir fry for about a minute. Add the cabbage leaves and mix everything well. No need to wilt the cabbage as it will be cooked in the rice cooker. Turn off heat. Remove contents from wok and place into a large bowl.
Put rice and sauce into a rice cooker. The water level has to be lesser than the stipulated amount inside the rice cooker as the cabbage will release some water as it cooks.
Pour in the contents from the bowl into the rice cooker and let it sit on top of the rice. Close the lid and turn on the rice cooker to cook. When the cooking time is over, gently mix the rice and ingredients with a rice paddle. Let it rest for 2 - 3 minutes before serving. If you find the texture of the rice not soft enough, add slightly more water and cook for a few more minutes.
Optional: Drizzle with a little sesame oil. Garnish with some spring onions and serve.
1. The cooking time will vary depending on your rice cooker.
2. Chicken (cubed or sliced) can be used instead of pork if preferred.
3. When mixing the rice and ingredients in the rice cooker, I recommend using the rice cooker paddle to stir to avoid scratching the bottom of the rice cooker.
4. If not adding lean pork, it is not necessary to marinade the mushrooms.
Recipe by
Souper Diaries
at https://souperdiaries.com/cabbage-rice-recipe/