Cantonese Style Steamed Fish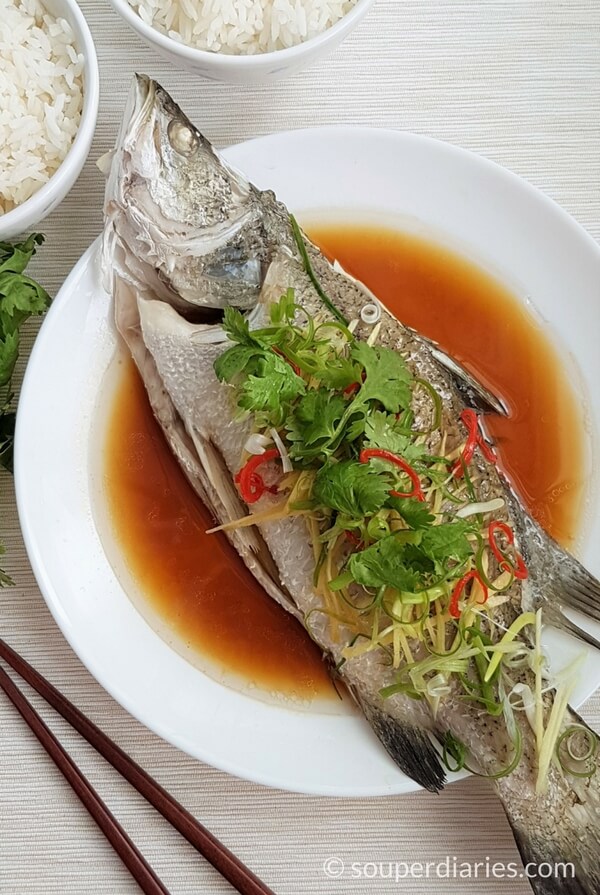 1 whole fresh fish or fish fillet (about 500 g)
2 inches ginger - slice into thin pieces
2 stalks spring onion - sliced into 3 inches length
1 tbsp Shaoxing wine
2 tbsp cooking oil
2½ tbsp light soy sauce
1 tsp sesame oil
3 tbsp water
2 stalks spring onion - sliced into 3 inches length and julienned
Chinese parsley (cilantro)
2 inches ginger - jullienned
½ red chili (optional) - julienned
Clean the fish (Gut and scale. Get a fishmonger to do it to save time). Wash the fish and pat dry with a paper towel. Make a slit under the fish and stuff spring onion and the ginger slices into the cavity of the fish. Skip this if using fillet.
Place the fish on a plate. Pour shaoxing wine over the fish and set aside while you prepare the rest of the ingredients.
Prepare the sauce ingredients in a bowl and set aside.
Fill a wok or large deep skillet to about ⅓ full. Place a heat resistant trivet in the middle. Bring water to a boil. Once boiling, carefully place the plate of fish on top of the trivet. Cover and steam for about 9 - 10 minutes (depending on the size of fish). The fish is properly cooked if it can flake easily without sticking to the bones. Set a timer to prevent overcooking.
As soon as fish is ready, turn off heat and remove plate from wok. Carefully discard the fish water. Use chopsticks to remove the used ginger and spring onions. Lay the chili and garnishes (except coriander leaves) on top of the fish.
In a smaller saucepan, heat up cooking oil till very hot. Pour it over the fish. You should be able to hear a sizzling sound. Put back the saucepan on the stove and heat up the sauce ingredients. It should bubble immediately as the saucepan is extremely hot. Pour the sauce over the fish. Put the rest of the coriander leaves garnishing and serve immediately.
If you plan to transfer the steamed fish to another serving plate after cooking, place some spring onions on the steaming plate before putting the fish on top of them. This is to prevent the fish skin from sticking to the plate when you lift it up.
Recipe by
Souper Diaries
at https://souperdiaries.com/chinese-steamed-fish-recipe/