Chinese Braised Chicken with Mushrooms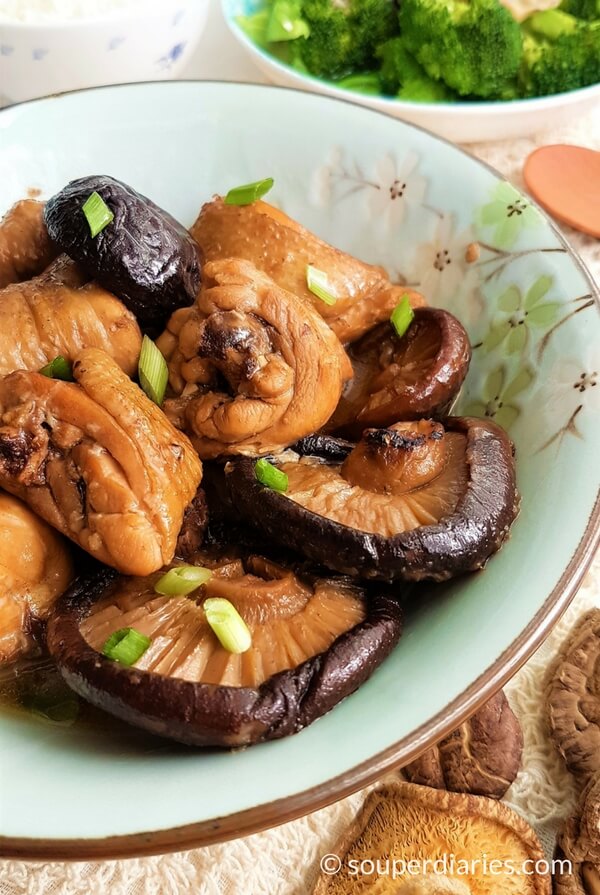 Recipe type:
Chicken Recipes
3 chicken thighs (650 g) - chopped into 4 parts each
10 dried shiitake mushrooms - soaked till soften and reserve soaking water
5 cloves garlic - minced
1 knob of ginger - cut into thin pieces
1 tbsp cooking oil
1 tbsp sesame oil
Salt to taste
Sauce
1 tbsp Shaoxing wine
3 tbsp light soy sauce
1 tbsp oyster sauce
1 tbsp dark soy sauce
rock sugar ( 10 g) (or use regular white sugar)
Water - use the mushroom soaking water
Wash the chopped chicken and drain. Set aside while you prepare the other ingredients.
Remove hard stems from rehydrated shiitake mushrooms.
Pour sauce ingredients in a bowl and mix well. Set aside.
Heat up both types of oil in a pot or dutch oven. Add ginger and garlic.Stir fry till fragrant. Add chicken and lightly brown.
Pour in mushrooms and sauce ingredients. Stir to coat the chicken and mushrooms. Add mushroom soaking water. The liquid should be just enough to cover the ingredients.
Bring the stew to a boil and then lower heat to simmer for about 45 minutes. Turn the chicken and mushrooms from time to time to ensure that they absorb the sauce evenly. Do not overcook. Check on the stew from every 10 minutes or so to ensure that there is sufficient liquid.
If you wish to thicken the gravy, cook uncovered in the last 5 - 10 minutes till the sauce is to your preferred consistency.
Taste and season with salt if necessary. Serve with some steamed rice.
1. Preparation time does not include soaking time for dried shiitake mushrooms.
Recipe by
Souper Diaries
at https://souperdiaries.com/chinese-braised-chicken-with-mushrooms/