Mango Pomelo Sago Dessert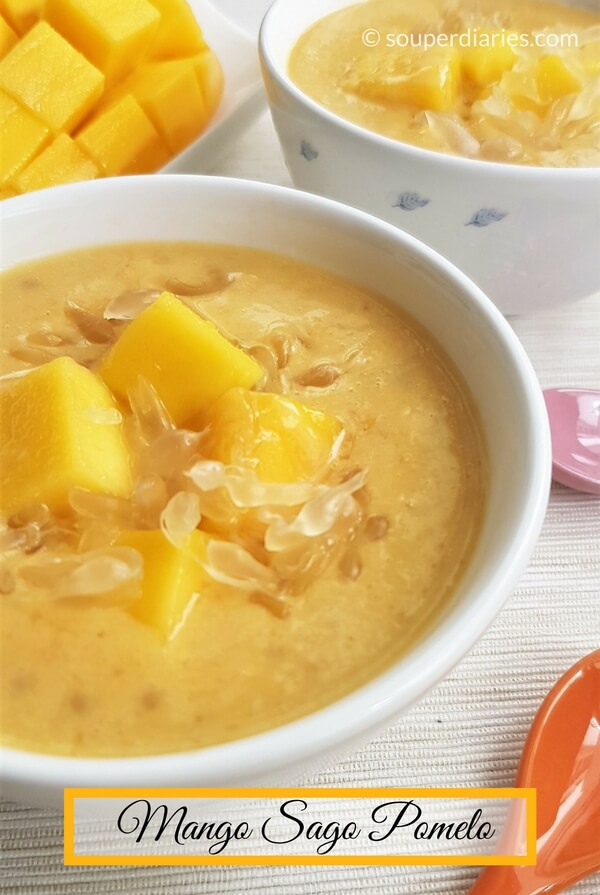 1 large ripe mango or 2 to 3 smaller mangoes (total close to 1 kg)
280 ml low fat evaporated milk ( I used Carnation brand)
Simple syrup (3 tbsp) - to taste
4 tbsp sago seeds
1 pomelo - cut and peeled. Use about 3 wedges of pomelo sacs
Prepare sago pearls. Put a small pot of water to boil. Once boiling, add the sago seeds. Lower heat and cook for around 10 minutes. Turn off the heat and allow the remaining heat to finish cooking the sago seeds. When the sago seeds turn translucent, ladle up and place them in a bowl of water till ready to use.
Cut the pomelo. Slice off the top of the pomelo. Make vertical slits (about ½ inch thick) along the sides of the pomelo. Using your hand, peel off the skin working from the top to bottom. Peel away the membrane from 3 wedges of pomelo and remove the pomelo sacs. Loosen the sacs with a spoon and set aside.
Cut the mango into cubes. Reserve about a quarter of the mangoes and set aside to be used as toppings for the dessert.
Place the mango cubes, evaporated milk and ice cubes into a blender. Blend for a short while till smooth. I did not break the ice completely as I wanted some pieces of ice cubes inside the dessert. You may replace the ice cubes with water if you wish to chill it in the fridge.
Pour pureed mango into a large bowl. Strain cooked sago seeds with a small sieve and add into the mango puree. Add the pomelo sacs and 3 tbsp of sugar syrup (or to taste). Reserve some of the pomelo sacs for topping. Mix well.
Ration into serving bowls and top with reserved mango cubes and pomelo sacs. Serve immediately or refrigerate to chill and serve later.
To make simple syrup, I melted 70 g of rock sugar in 1 cup of water.
Recipe by
Souper Diaries
at https://souperdiaries.com/mango-pomelo-sago-recipe/