Stir-fried Leeks with Roast Pork and Tofu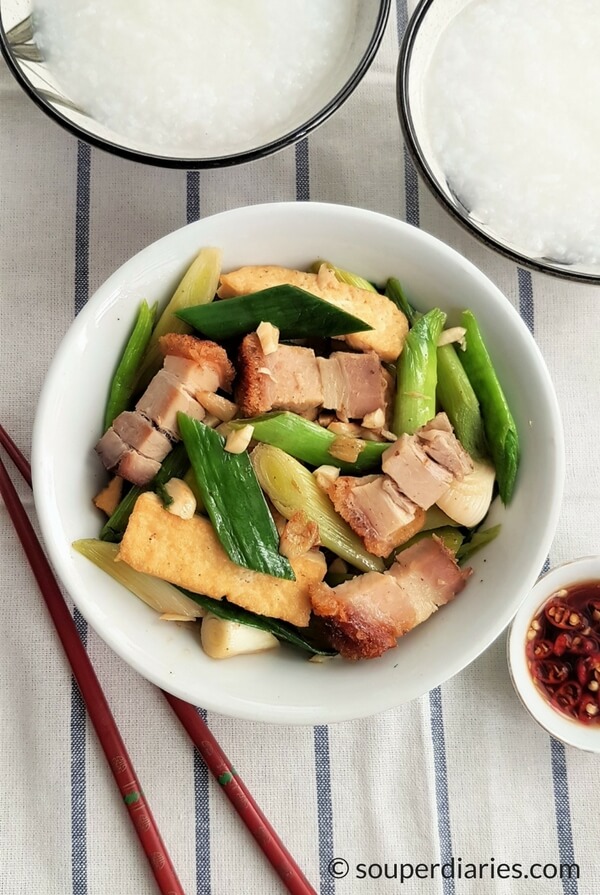 6 stalks of leeks (about 230g)
1 block of beancurd - cut into bite-sized pieces
150 g roast pork - cut into 1 cm width pieces
3 cloves garlic - chopped
¾ tbsp light soy sauce
Salt to taste (if necessary)
½ cup water (or adjust quantity to how much sauce you want)
Peel off dried outer leaves from the leeks. Cut off the roots. Slice the leek diagonally into 2 inch strips. Wash with water a few times to remove dirt and soil between the layers of the leaves. Separate the stalks and leaves and set aside.
Heat up oil in a wok. Fry bean curd pieces till light brown and set aside. Add garlic and fry till fragrant. Add the stalks and stir fry for about a minute till slightly softened.
Add roast pork and fried bean curd pieces. Stir fry for about a minute before adding the remaining leaves. Stir fry briefly. Pour in light soy sauce and water. Mix well and cover with lid. Simmer for about 2 minutes. Turn off heat and serve hot with plain white rice or porridge.
Recipe by
Souper Diaries
at https://souperdiaries.com/stir-fry-leeks-with-roast-pork/