Sweet and Sour Whole Fish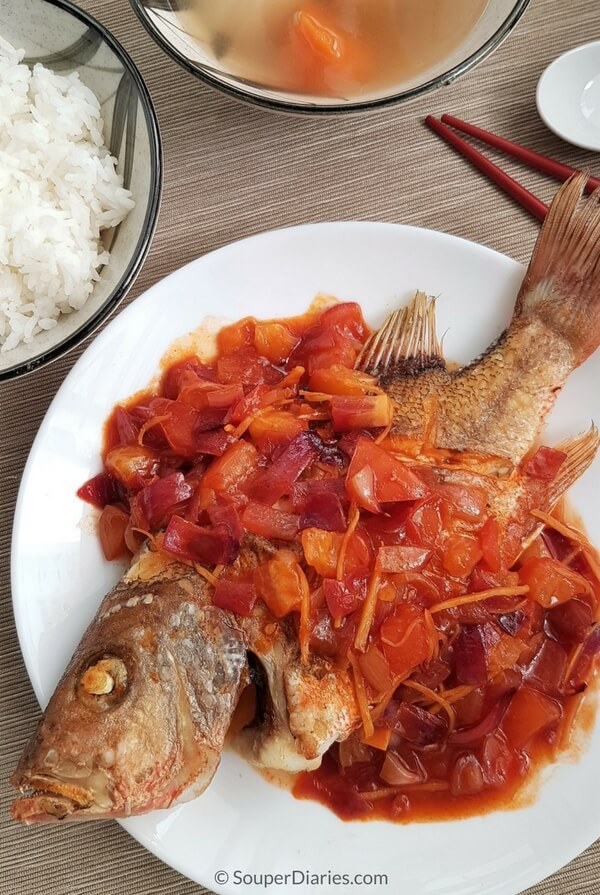 Recipe type:
Seafood Recipes
Fish
1 whole fish (about 500g) - gutted, scaled and cleaned
½ tsp salt
¼ cup corn flour/plain flour
Cooking oil
Stir frying
1 tomato - deseeded and diced
1 medium red onion - chopped
Ginger (about 25g) - julienned
Sweet and sour sauce
4 tbsp ketchup
1 tbsp rice vinegar
2 tsp sugar
½ tsp salt
½ tsp light soy sauce
5 tbsp water
Gut and clean fish. Get a fishmonger to gut it for you to save time. Make slits on both sides of the fish. Rinse and pat dry. Rub salt all over the fish including the insides of the slits. Set aside.
Mix all the sauce ingredients in a bowl. Set aside. When ready to fry the fish, coat with flour.
Heat up oil in a wok till it's very hot. Carefully lower fish onto the wok. Fry each side for about 3½ minutes (or slightly longer depending on the thickness of the fish) on each side till golden brown. Remove and place on a serving plate.
Pour away excess oil till about 2 tbsp is left in the wok. Fry the ginger and onions till fragrant. Pour in sauce. As soon as the sauce hits the wok you should see it bubbling. Now add the tomatoes and cook for about a minute till the tomatoes are softer. Do not cook for too long or the sauce will reduce considerably.
Pour the sauce over the fried fish and serve immediately.
Recipe by
Souper Diaries
at https://souperdiaries.com/sweet-and-sour-fish-recipe/