Shrimp Egg Drop Soup Recipe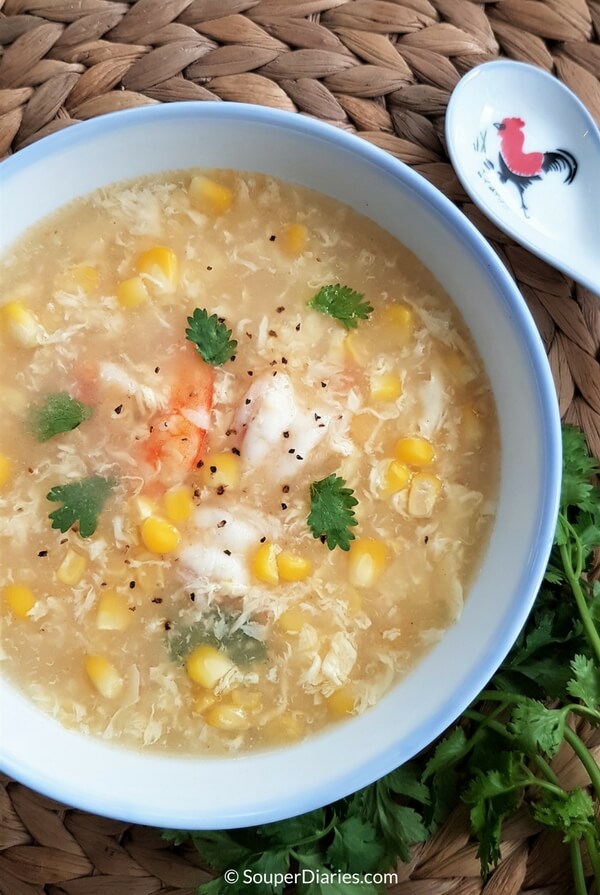 Recipe type:
Quick Soup Recipe
2 fresh sweet corn - remove kernels
6 medium prawns
3 eggs - beaten
2 cups low sodium chicken stock
1 cup water
½ tbsp cooking oil
2 tbsp corn starch - combine with ¼ cup water
Coriander or spring onions (for garnishing)
Pinch of salt
Pinch of black pepper
Shell and devein prawns. Rinse, pat dry and set aside. Lightly season with a little salt and black pepper.
Heat oil in a soup pot till hot. Fry the prawns till just cooked. Do not overcook or the prawns will be tough. Remove and set aside.
Add chicken stock, water and corn kernels into the same pot. Bring to a boil and then simmer for about a minute. This is to let the corn kernels soften a little.
Add corn starch slurry. You may have to re-stir the corn starch slurry if it has separated. Mix well with the soup.
Turn off heat. Slowly pour the beaten eggs with one hand and stir the soup with your other hand as you pour. Stir more frequently for smaller egg strands or stir gently if you prefer larger egg strands.
Pour into individual bowls. Portion the prawns and add into the soup. Garnish with coriander leaves. Optional: Sprinkle with some ground black pepper. Serve immediately.
Recipe by
Souper Diaries
at https://souperdiaries.com/chinese-egg-drop-soup-recipe/