Thermal Cooker Chicken Congee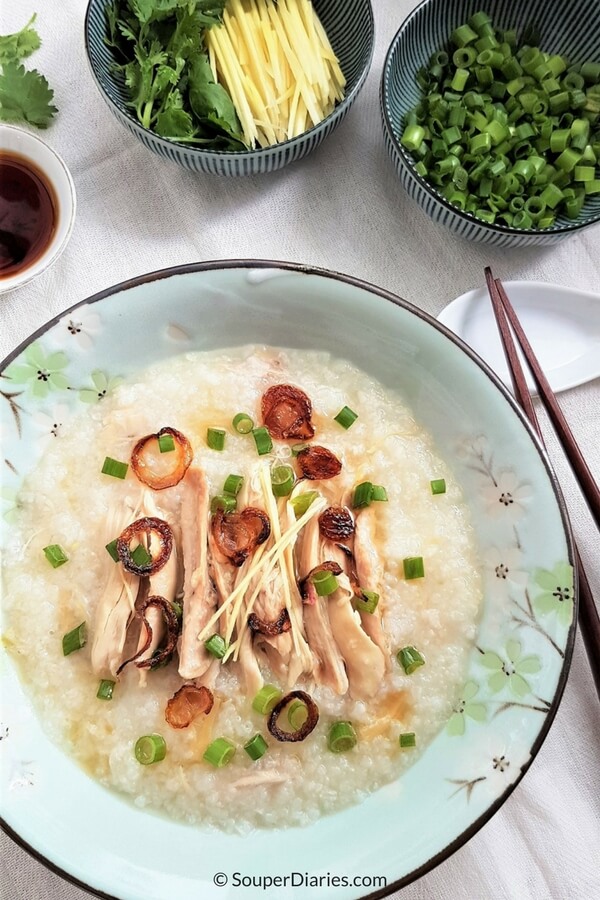 Recipe type:
Rice Recipes
1 rice cup of rice (150 g)
5 cups water (see notes)
2 chicken legs (skin and fat removed)
50 gm small dried scallops - soaked in 1 cup water and reserve soaking water (see notes)
10 gm of ginger - cut into slices
Salt to taste
2 tsp fried shallot oil (or use cooking oil)
1 tsp salt
5 stalks spring onions - chopped
40 g ginger - julienned
3 tbsp fried shallots
Wash and rinse the rice in the thermal cooker's inner pot. Repeat till the water runs clear. Drain away the water. Add oil and salt to the rice. Mix well and set aside for about 10 minutes or longer if you have time.
Shred the soaked dried scallops by hand into small pieces. Add the shredded dried scallops, ginger pieces and chicken legs into the inner pot. Add water and the liquid that you soaked the scallops.
Bring the contents to a boil with lid closed. Once boiling, reduce heat to medium. Cook on the stove-top for 20 minutes with the lid partially open or the water will foam and overflow. Stir every now and then to loosen the rice and prevent them from sticking to the bottom of the pot.
Put the lid back on. Transfer the pot into the thermal cooker's outer container. Close the outer lid and leave it there for about 2 hours.
After 2 hours, remove the chicken legs and shred the meat into small slices. Add them back to the congee and save some to put on top of the congee. Stir the congee and add some hot boiling water if you find it too thick.
Taste the congee and season with salt as required. Garnish with spring onions, ginger and fried shallots and serve hot.
1. If you're not using dried scallops, replace the water with homemade chicken stock or store bought low sodium chicken stock.
2. Take out the inner pot and re-heat on the stove top if you want the congee to be steaming hot.
3. If you're using a 'normal' pot, just cook the congee all the way on a stove top. Stir occasionally to prevent the rice from sticking to the bottom of the pot.
Recipe by
Souper Diaries
at https://souperdiaries.com/thermal-cooker-chinese-congee-recipe/