Salted Vegetable Tofu Soup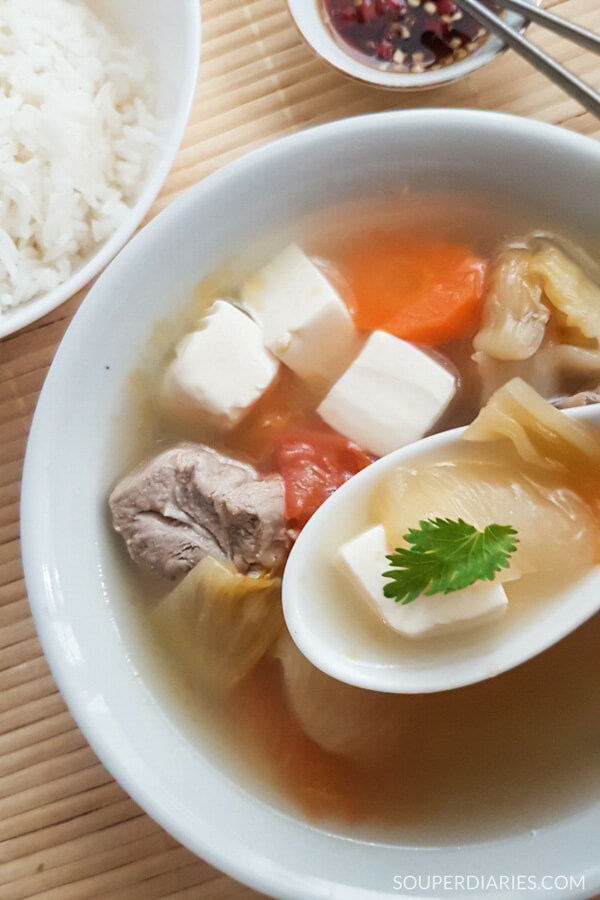 Recipe type:
Slow Simmer Soup
200 g salted vegetables
300 g spare ribs or pork bones
1 large tomato - cut into wedges
½ a carrot - peeled and cut diagonally
1 block of soft tofu - cubed
20 g ginger - peeled and gently bruised
¾ tsp white peppercorns (optional for heat) - roughly crushed
6 cups water
Soak the salted vegetables for 10 minutes. After 10 minutes, tear a small piece and taste. If you find it too salty, soak for another 5 minutes. Do not oversoak or it will turn tasteless. Then tear or cut the salted vegetables into pieces.
Parboil spare ribs in a small pot of boiling water to remove impurities.
Place all ingredients except tofu into a soup pot. Bring to a boil over high heat. Then lower heat and gently simmer for about 1½ hours. When the soup is almost ready, add the tofu. Serve hot.
If using store bought salted vegetables, you may have to soak for a longer time.
Recipe by
Souper Diaries
at https://souperdiaries.com/salted-vegetable-tofu-soup/