Steamed Herbal Chicken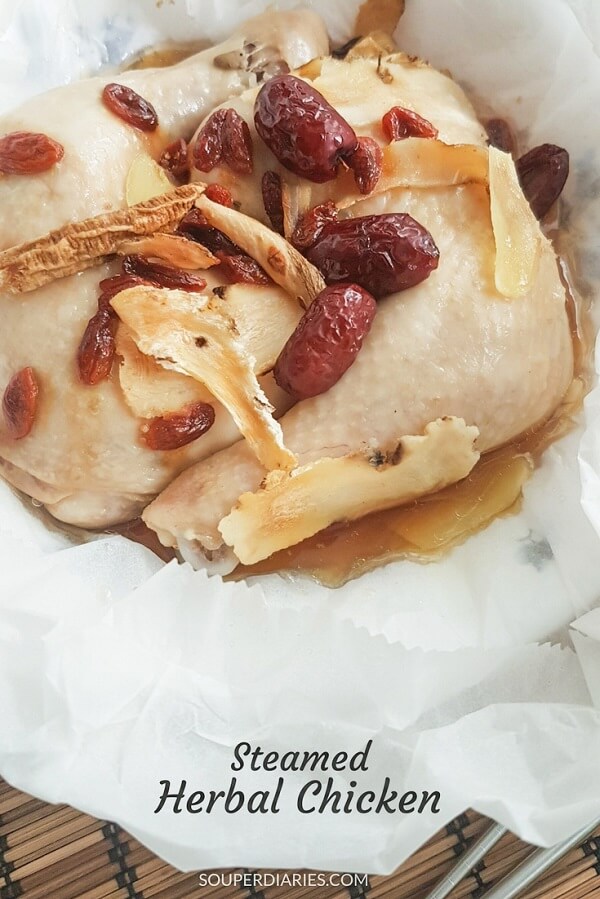 Recipe type:
Chicken Recipe
2 chicken thighs
5 slices of ginger
1 tsp light soy sauce (or to taste)
1 tsp salt (or to taste)
1 tsp sesame oil
1 tbsp shaoxing wine
5 g dang gui (about 6 to 7 pieces)
5 red dates - halved
10 g dang shen (2 pieces)
10 g yu zhu
2 tbsp gei qi
1 piece of parchment or cooking paper
Remove fats from chicken thighs and rinse. Marinade chicken thighs for at least an hour.
Place a sheet of parchment paper on a heat-proof plate. Place half the herbs on top of the parchment paper followed by the chicken legs. Then scatter the remaining herbs on the chicken and pour the marinade sauce over them. (If you want some sauce with the chicken, add 2 to 3 tbsp of water.)
Fold the paper over the chicken lengthwise and seal the sides. Alternatively, you can also tie it up into a parcel.
Fill a wok/steamer with enough water to steam. Steam over medium high heat for about 45 minutes. Check occasionally to ensure there is enough water. If the water dries up too much, top up with some water. Serve hot.