Water Chestnut Egg Dessert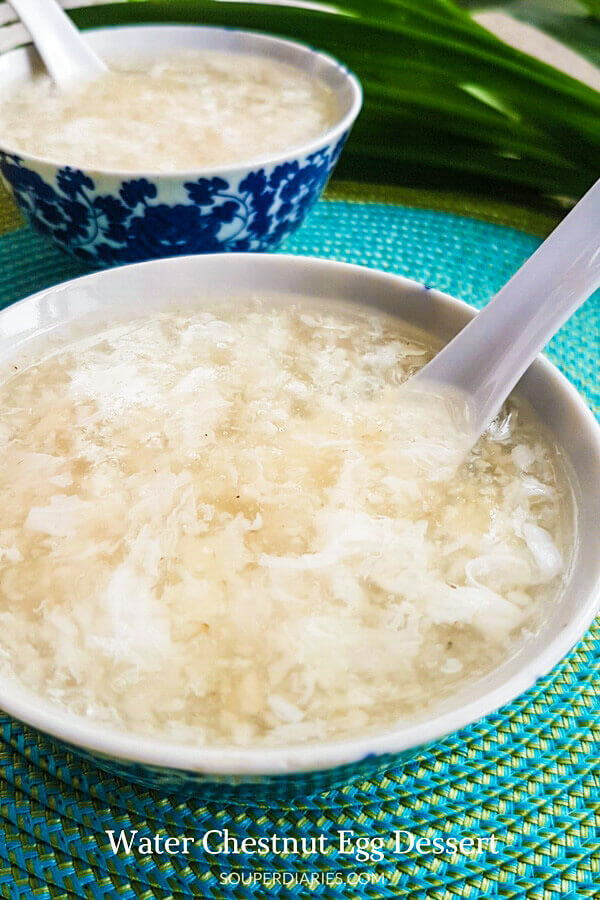 8 water chestnuts (about 250 g)
110 g rock sugar (or to taste)
3 tbsp water chestnut powder - mix with 4 tbsp water
3 egg white - beaten (use 2 eggs if they're large eggs)
5 pandan leaves - tie into a knot
2 tbsp small sago seeds (optional)
4 cups water
Bring a small pot of water to a boil and cook the sago seeds till translucent. Refer to this post for full instructions.
Wash and scrub the water chestnuts thoroughly until the water runs clear. Peel and mince finely. (see note)
Bring water to a boil in a small pot together with the pandan leaves. Let simmer for about 5 minutes. Remove pandan leaves.
Add minced water chestnuts, sugar and chestnut powder mixture. Mix well and let simmer for 5 minutes.
Turn off heat. Swirl in the egg white and stir with a ladle. Cover lid for about 1 to 2 minutes. Spoon in the cooked sago. Serve warm or chilled.
1. Cut the water chestnuts coarsely if you prefer them to be in bigger pieces.
Recipe by
Souper Diaries
at https://souperdiaries.com/water-chestnut-dessert-recipe/