Beetroot and Corn Soup (Chinese Style)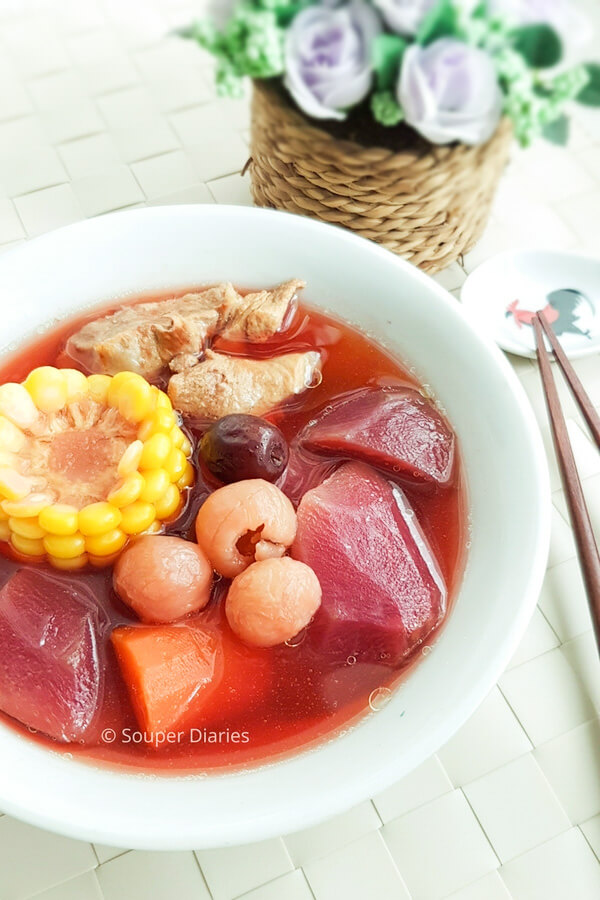 Recipe type:
Slow Simmer Soup
300 gm pork spare ribs or soup bones
8 chicken feet (optional) - nails removed and cleaned
1 beetroot (about 400 gm)
1 sweetcorn
1 medium carrot
8 dried red dates
20 dried longan
Water
Parboil pork and chicken feet in boiling water for about 5 minutes to remove dirt. Remove, rinse and set aside.
Peel beetroot and carrot and cut into small chunks. Cut corn into segments.
Place all ingredients into the inner pot of a thermal cooker. Add just enough water to immerse the ingredients and bring to a boil. Then cook on medium-low heat for 30 to 45 minutes. Turn off heat and transfer the inner pot (with lid on) into the thermal cooker. Close the lid and leave it inside for about 2 hours.
Season with salt to taste and serve.
If cooking on a stovetop, after bringing the soup to a boil, simmer on low heat for 1.5 hours or until the meat is tender.
Recipe by
Souper Diaries
at https://souperdiaries.com/beetroot-soup-recipe/