Tau Yew Bak (Braised Pork Belly in Soy Sauce)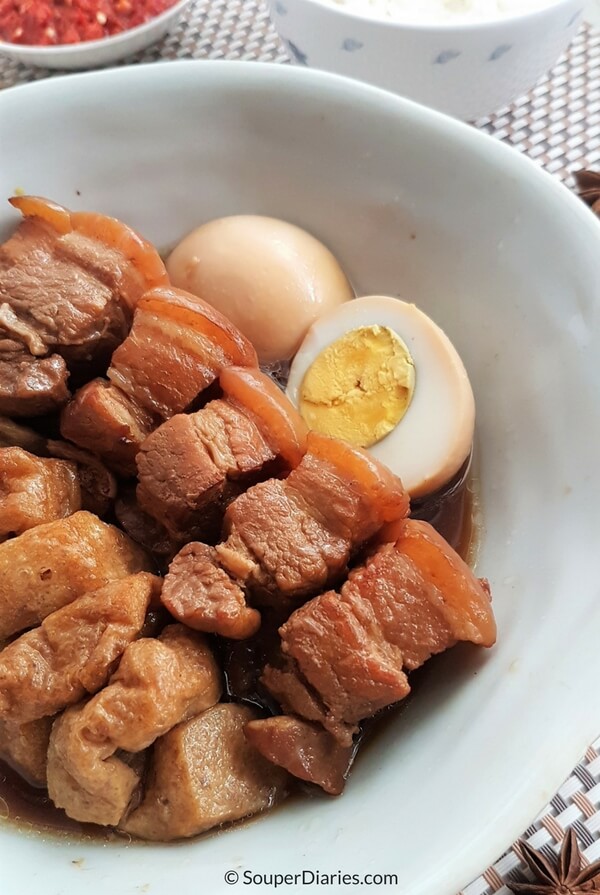 500 gm pork belly
1 star anise
1 cinnamon stick
2 cloves
5 cloves garlic - lightly smashed with skin on
4 hard boiled eggs- optional
10 pieces of tao pok (fried tofu puffs) - optional
1 tbsp cooking oil
Water - about 2 cups or just enough to cover all the ingredients
For sauce
2 tbsp dark soy sauce
50 ml light soy sauce
5 cubes of rock sugar (or to taste)
Scald pork belly briefly in boiling water. Remove and cut into bite-sized pieces. Set aside.
Heat oil in a pot. Add cinnamon stick, star anise, cloves and garlic and stir fry till fragrant.
Add pork slices and fry on both sides. Then add light soy sauce, dark soy sauce and sugar. Stir well to coat the pork slices.
Add water till it is just enough to cover all the ingredients. Bring to a boil. Reduce heat to the lowest setting and simmer for about 1.5 hours or until meat is tender to your liking.
If adding hard boiled eggs and tao pok, add them in the last half hour of cooking. Taste the stew and adjust with more water or light soy sauce if necessary Once the meat is soft, turn off the heat. Serve with rice and sambal belacan.
Recipe by
Souper Diaries
at https://souperdiaries.com/tau-yew-bak-braised-pork-belly-in-soy-sauce/