Sambal belacan is an indispensable relish for many Southeast Asians who love to have a spicy kick in their dishes. Spicy, savory and slightly sourish (from the addition of limes), it makes food much more appetizing and goes well with many Asian dishes.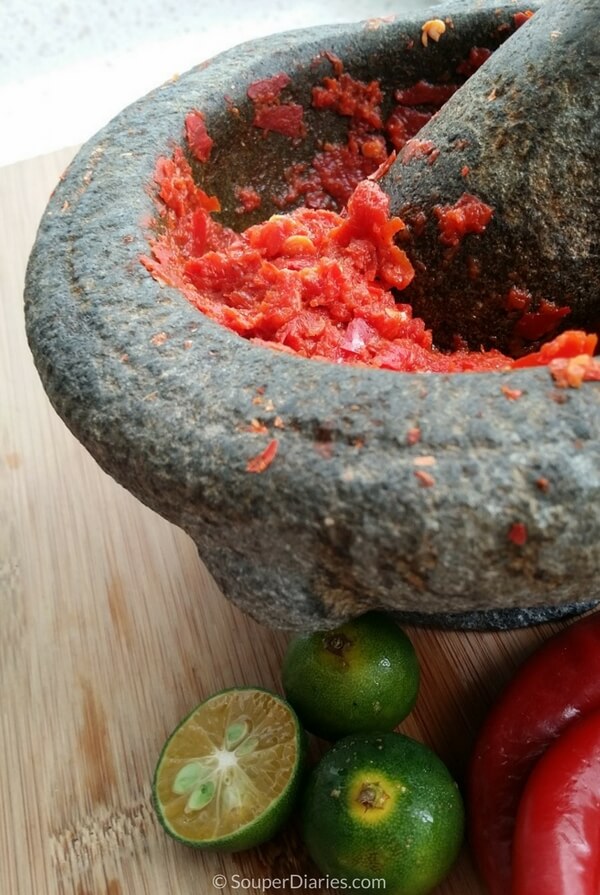 This simple sambal belacan recipe uses only 4 ingredients. That's all you'll really need for a simple sambal paste and that's the way my mother used to make it. This is what I use:
Belacan
Red chillis
Sugar (this is optional but a little will enhance the sambal)
Lime
What Is Belacan and How to Use It?
It is the unmistakable taste of belacan that makes sambal belacan so unique in taste and smell. Belacan is made from fermented ground shrimp and salt. Not all belacan are the same as they can come in different sizes, texture and shapes. Some are hardened blocks (like the picture below) while others are circular in shape.
Belacan has a pungent aroma and taste so a little goes a long way. As it is already salty, it is not necessary to add salt when making sambal belacan. But you can add a little sugar to balance the heat in the final product.
Toast the belacan on a dry frying pan first before you pound/blitz it with the red chilies. Toasting helps to release its aroma. Sear the belacan before crumbling it with your spatula. Your whole kitchen will have a lovely (or stinky depending on how you find it) smell so open up the windows!
The more belacan you use, the darker the shade of the sambal and the saltier it will be. It is the belacan that gives the sambal that unmistakable and unique savory taste. Take it away and you might as well be eating regular chili sauce. If you can't find belacan in your local area, you can buy them online here.
After toasting the belacan, add them to your cut chilies and pound with a pestle and mortar which is how I usually do it. If you are pounding the chilies, I would suggest that you place some unwanted newspapers below the mortar to catch any spills. Oh, and wear an apron if you want to avoid getting chili stains on your clothes.
Make sure the mortar and chilies are not wet before you start to pound or it will be really messy later. What I usually do is after giving the chilis a quick rinse, I'll wipe them dry with some kitchen paper. Then let them sit for about 30 minutes on a dry surface so that it will not splash as much when pounding.
If the thought of pounding chilies does not sound appealing to you, by all means use a food processor. However, if you ask me, I would prefer to pound it myself as I prefer the texture and imperfection of hand pounded sambal but the choice is yours. The traditional way of making sambal using a mortar and pestle will produce a coarser texture and consistency while sambal made with a food processor will have a finer texture.
I love watching and listening to youtube videos with my device placed at a safe distance when I make sambal belacan. Lately, I've been watching a lot of my pastor's sermons on youtube. 🙂
Sambal belacan can be used as a spicy relish or as a cooking ingredient. It turns dishes like the delicious Tau Yew Bak and Jiu Hu Char into something out of this world. I also love having sambal belacan with food like nasi lemak, fried noodles, vegetables, fried rice and so much more. Try these recipes soon with some homemade sambal belacan today. Turn your dishes from bland to grand with this easy but oh-so-good sambal belacan!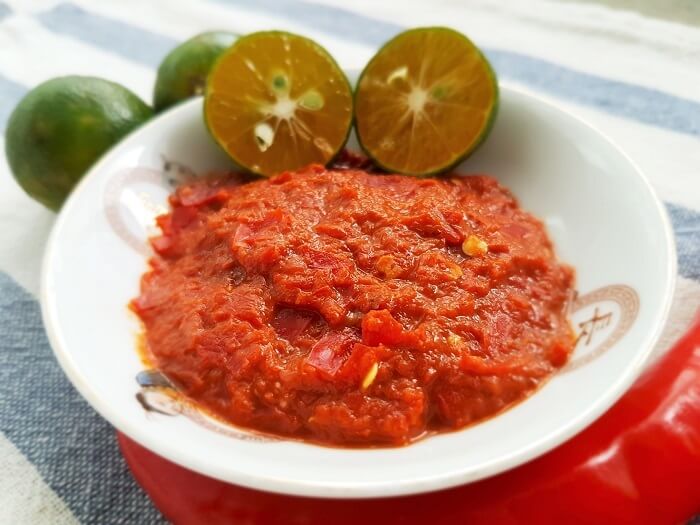 Would you like to receive updates of new recipes from Souper Diaries? Subscribe to Souper Diaries newsletter and get them delivered to your inbox. Let's connect on Instagram, Pinterest, Twitter and Google+. Thanks for reading and happy cooking!

Sambal Belacan as a relish
A popular Malaysian spicy condiment that goes well with stir-fried vegetables, meats, seafood and more.
Recipe type:
Dips & Sauces
Ingredients
15 g belacan (shrimp paste) - toasted
8 red chilies (remove seeds but you can leave some insid)
Juice from 1 calamansi lime (another type of lime can be used if you can't find calamansi)
Fine sugar (to taste)
Instructions
Toast the belacan in a pan until it dries out and become crumbly and powdery. Remove and set aside to cool.
Rinse chilies and pat dry with paper towels. Cut chilies into smaller pieces. Pound chilies and the toasted belacan with a pestle in a dry mortar. Scrape down the sides when necessary. Add a little sugar to taste and mix well.
Transfer the amount you want to serve into a small bowl. Add in lime juice just before serving. Keep any remaining sambal in a glass jar in the fridge and use within a week.
Cooking Notes
1. You may increase the amount of belacan used if you plan to use this as an ingredient in your cooking.
2. Wear disposable gloves when pounding the chilies to prevent chili burn.
3. To make sambal as a cooking ingredient, omit the sugar and lime. It is not necessary to toast the belacan as it will be cooked when you use it.