Growing up, Jiu Hu Char was a dish that I watched my mother and her siblings prepare every Chinese New Year. In my teenage years, I too had a hand in helping to slice the ingredients for this dish. We would make a big batch to feed the family. So it was always a boisterous affair where all the women in my mother's family did their part to prepare the CNY dishes – chopping, slicing, dicing, pounding chillies for sambal belacan, cooking, washing and so on.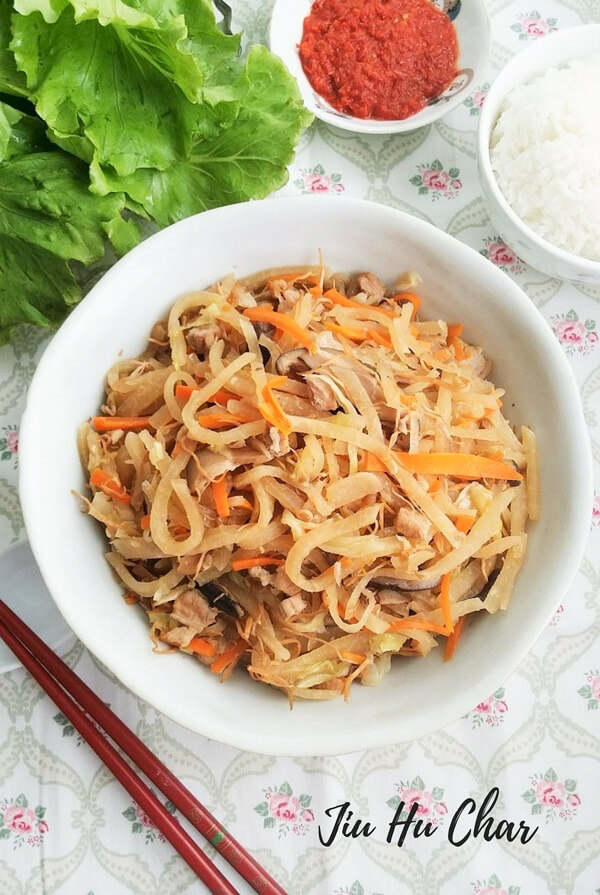 2o years on and with my own family now, I still cook this dish every CNY. The taste of this dish always bring back vivid memories of my growing up years during the festive season. To me, this is the taste of home.
Yam Bean (Jicama)
Yam bean is also known by many other names. Among them are jicama (Spanish), bengkuang (Indonesia), sengkuang (Malay), sa kot (Cantonese), man pao (Laos), man kaeo (Thai), kesaur (India) and kuzu-imo (Japanese).
The flavour of raw yam bean is sweet and starchy with a crisp texture that reminds me of pears. Besides jiu hu char, yam bean is also an essential ingredient in popiah (fresh spring roll filled with jicama and other ingredients), kuih pie tee (a popular Peranakan dish), yu sheng and rojak (a Malaysian fruit salad).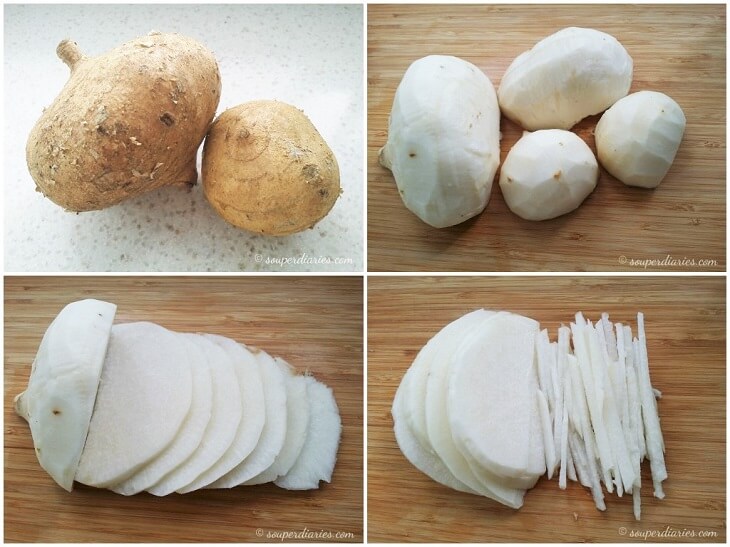 Pictured above is the yam bean in various stages of being cut. Peel off the skin first with a vegetable peeler. Then cut them into half. Next, cut into slices as shown above. Finally, cut into strips. Don't fret if they're not uniform in size. They're hand cut after all.
For this dish, the cooking is the easy part. It is the preparation that will take patience and time. The yam bean has to be painstakingly hand cut if you want to achieve a better texture and mouthfeel. I tried using a box grater before and the resulting dish turned out soggy and lacked the 'bite' of manual cutting. So forget about using a box grater.
Jiu Hu (Cuttlefish)
The shredded cuttlefish deserves a special mention here. Although it is not the main ingredient in this jiu hu char recipe, it is the star ingredient and is the essence of this dish. I love the unique flavor that permeates the entire dish and makes it very appetizing. In fact, this dish is named after this ingredient. Jiu Hu means cuttlefish in the Hokkien dialect.
Shredded cuttlefish are usually available in Asian grocery stores in the market. Note that this is not the same as seasoned cuttlefish sold in supermarkets but dried cuttlefish that is used for cooking. I bought mine from a Chinese medical shop where they sold them in larger packets and I found them to be more value for money.
Sometimes if my children are at home, I will get them to help me cut the ingredients. It is a good bonding time for us and I want them to learn how to cook this dish too just as I had learnt from my mother.
Use a wok large enough to accommodate everything to minimize spillage when you cook.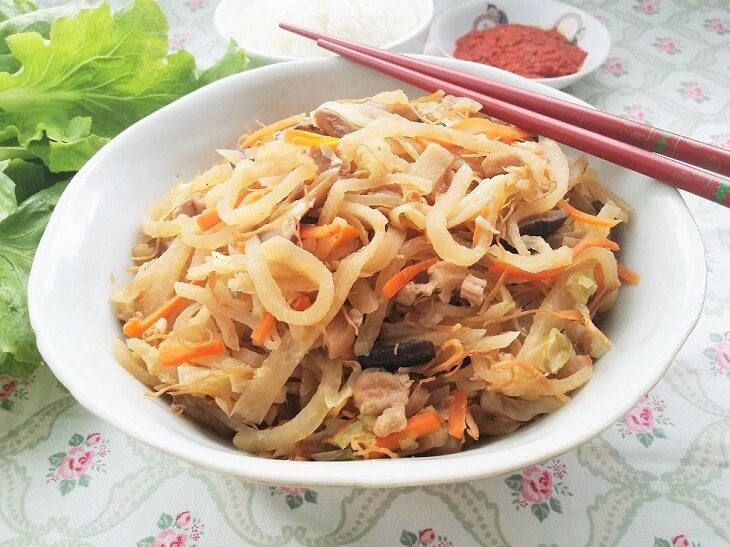 This dish will taste even better the next day as the flavours continue to develop. It also freezes well. Usually, we will eat half of it on the day it is cooked and save the other half for the next day. Sambal belacan and lettuce leaves are a must for me when I eat this dish. The spicy heat from the chili is a lovely foil to the crisp, fresh lettuce and savory vegetables.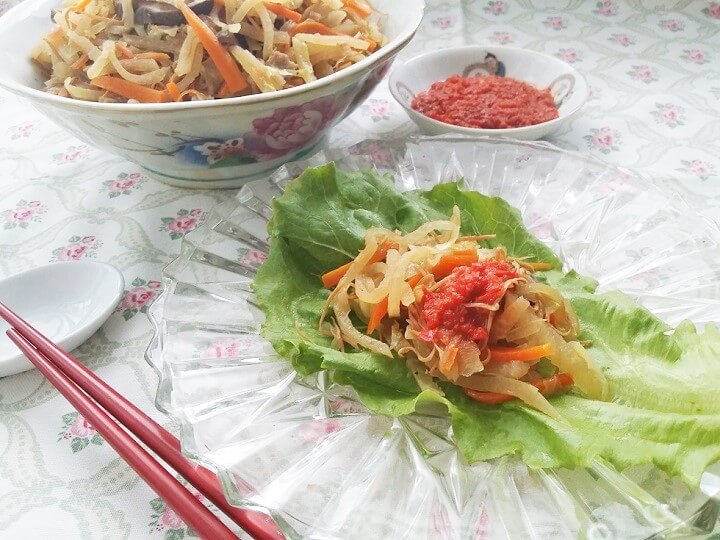 Savor the explosion of flavors and texture as you bite into each lettuce wrapped parcel. I can eat a whole bowl of rice with this alone. Simply delicious.
More CNY Recipes:
Fish Maw with Prawn Meatballs Soup
Cantonese Style Steamed Fish
Lo Han Chai
Har Lok Prawns
Braised Shiitake Mushrooms with Broccoli

JIU HU CHAR RECIPE
A traditional Nyonya dish of stir-fried yambean with shredded cuttlefish served with local lettuce and sambal belacan.
Ingredients
1 kg yambean - peeled and cut into thin strips
1 carrot - peeled and cut into thin strips
1 small cabbage (about 400g) - cut into thin slices
6 dried shiitake mushrooms - soaked in hot water till soften
250 g pork belly
80 g dried shredded cuttlefish
4 shallots - chopped
4 cloves garlic - chopped
½ tbsp dark soy sauce (for color)
¾ to 1 cup water (adjust accordingly)
Light soy sauce - to taste
Salt - to taste
Others
Instructions
Blanch pork belly in a pot of boiling water for about 8-10 minutes. Remove and cut into thin bite-sized strips and set aside.
Cut off stems from mushrooms. Squeeze excess water away and cut into thin slices. You may pour the soaking water into the wok if you wish.
Heat up oil in a wok. Stir fry shallots and garlic till fragrant. No need to brown. Pour in the shredded cuttlefish and fry till fragrant followed by the pork belly and mushrooms. Then add carrots, cabbage and yam bean and continue to stir-fry.
Season with some salt, light soy sauce and dark soy sauce and mix everything well. Add some water so that it won't be too try. Cover the wok and let it cook for about 10-15 minutes until all the vegetables have softened.
Taste before serving and adjust seasoning if necessary. Turn off heat and dish out. Serve with fresh lettuce leaves and sambal belacan.
Cooking Notes
1. If you are planning to eat this dish wrapped with lettuce, don't add too much water or it will be very soupy and messy to wrap.
2. Add more dark soy sauce if you prefer a darker color.
3. You may omit the pork if you are a vegetarian.