If you often make soups, stews, sauces, stocks or any dishes which require lots of liquid, a soup or stock pot is a necessary investment in the kitchen. You want a reliable and versatile soup pot that will last you for many years to come.
Different pots have their own unique attributes to better suit different types of cooking and ingredients. However, some pots are more versatile than others. I personally love my clay pot for Chinese herbal soups, stainless steel pot for making stock and my thermal cooker on busy days when I have little time to cook.
Contents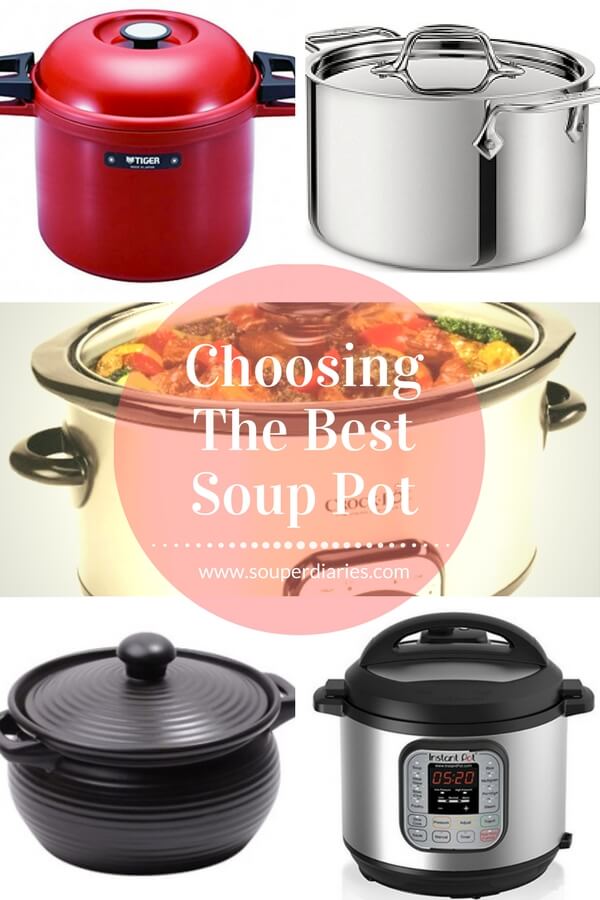 This article contains my affiliate links. Last updated on 2/1/18

What to Look for in a Soup Pot?
1. Size
A soup pot come in many sizes so consider how many persons you usually cook for. Generally, a smaller pot (I personally like 4qt – 6qt) is used for soups while a larger one would be better suited for making stocks.
Have a separate pot for soup and stock as a stock pot is so much larger it is simply not practical for everyday use (especially if you're cooking for very few people). In fact, many cooks have several soup and stock pots in their kitchen.
Size is especially important when choosing a thermal cooker. Don't get a huge cooker if you don't cook that much. With a thermal cooker, having minimal air space between the soup and the inner pot will help food to stay warm for a longer time.
2. Materials
Stainless steel is one of the most common materials used in a stock/soup pot. Other common cookware materials include aluminium, cast iron, enameled cast iron, nonstick and copper. Each option has its advantages and disadvantages.
3. Construction
A good soup pot should be sturdy and well-built with an even bottom. A thick, heavy bottom is preferable to a thin one as it reduces the chances of burning by minimizing hot spots (note that you still still need to stir when cooking certain foods like chili and tomatoes). They also absorb and distribute heat more evenly compared to a pot that has a thinner material.
4. Features
Lid: A tight and snug fitting lid is a must. Some pots come with a tempered glass lid while others are made of the same material as the pot. Although glass lids are more prone to breakage, it is useful as you can see the food as it cooks.
Handles: You want strong handles that are securely fastened to the pot with rivets to hold the weight of the pot and its contents. If you find riveted handles hard to clean, you may want to check out pots with rivet-free design where the handles are joined to the pot such as Happycall's alumite ceramic pots.
Induction ready: Are you using an induction stove at home or planning to change to one? Here are some examples of induction ready soup pots:
---
1. Stainless Steel Pot
Pros: Non-reactive, sturdy (does not chip, bend or crack easily), good price range (from inexpensive to costly), many options and sizes, low maintenance.
Cons: Poor heat transfer unless an inner core of aluminum or copper is used. 
My first soup pots were made of stainless steel and I'm still using them after all these years. What I love about stainless steelpots is their durability and ability to withstand high heat. They seem to last indefinitely and I've never had any problems with them.
I own several stainless steel pots in various sizes which I use regularly. My largest stainless steel pot is used solely for homemade stocks and I often par-boil meat for Chinese soups in my smaller stainless steel saucepan.
Maintenance wise, they're easy to clean. Unlike non-stick cookware, you can use steel brushes to remove stubborn stains and sticky food residues.
Top Picks:
---
2. Thermal Cooker
Pros: Great for Chinese soups, versatile, portable, energy efficient (saves time and gas), keeps food warm for hours without electricity.
Cons: Cooking time with a thermal cooker on a stovetop is much shorter so the resulting flavors may not be as strong. 
If you love Chinese soups, a thermal cooker is a wonderful investment for the kitchen. Also known as magic cookers or vacuum cookers, thermal cookers uses trapped heat to cook food in an insulated inner pot.
For busy days, a thermal cooker is my go-to pot. Thermal cooking is a more energy efficient way to cook as most of the cooking is done without any source of power.
Find out more about what is a thermal cooker and why I think all cooks should have one here.
Top Picks:
---
3. Slow cooker
Pros: Great tasting soups, hands-off cooking, minimal labour and easy to use.
Cons: High energy usage, heavier to lift and clean.
Just like a thermal cooker, you can leave the slow cooker to cook on its own without supervision. A set and forget device. So you can go about your day or leave the house, etc and come home to a lovely meal. There's minimal water evaporation with no risk of boiling over if the ceramic inner pot is kept at around 80% full.
The prolonged cooking time in a slow cooker is ideal for cooking tougher and inexpensive cuts of meat. After long hours of slow cooking at a low temperature, the meat turns out tender and flavorful. It also extracts every last bit of flavor from the ingredients resulting in a robust and flavorful soup.
Slow cookers are great for cooking beans such as Black Bean Soup and Red Bean Soup. The beans will definitely soften due to the long cooking time. You also do not have to pre-soak as long as you would if you're cooking them on a stovetop.
A programmable slow cooker is able to preset cooking time and keep food warm for hours.
Top Picks:
---
4. Pressure Cooker
Pros: Cuts down cooking time by more than half compared to a regular pot, makes wonderful soup stock, food retains most nutrients, saves energy and time.
Cons: Can be complicated to use especially for beginners.
Pressure cooking is the process of cooking food using steam pressure inside a tightly sealed pot. As heat has nowhere to escape, pressure is built up gradually from the trapped steam and causes temperatures to rise rapidly inside the pot. This allows food to cook much faster compared to other methods. You can cook at lightning speed with fantastic results.
This cooking appliance can cook almost anything but cooking is not as intuitive as you can't see, touch or taste the food while it cooks inside the pressure cooker. It's a whole new way of cooking and you'll need to follow all the safety precautions carefully.
Some pressure cooker models also come with a steam rack insert so you can cook two meals at once. This time and energy savings appliance is perfect for those who love the green conscious lifestyle.
Top picks:
---
5. Claypot
Pros: Flavorful soup, versatile, non-reactive material, beautiful designs and even heat distribution.
Cons: Not as durable compared to other materials.
Clay pot cooking is an ancient method that is still very popular today. Made from clay, a naturally porous material, clay pots (sometimes called earthenware) do not contain poisonous substances and are a healthy and non-toxic cookware. Due to the porous nature of clay, it allows moisture and heat to circulate evenly through the pot while cooking. Soup cooked in a clay pot is thicker compared to other pots, tasty and flavorful. Clay pots also keep food warm for a longer time.
There are several types of clay pot. Glazed, partially glazed and unglazed. Unglazed clay pots have to be seasoned before use in accordance to the manufacturer's instruction. Do not use detergent to clean an unglazed clay pot as it will seep into the clay. Instead, hand wash with hot water and a stiff brush. If you do want to go through the process of seasoning a clay pot, look for a glazed clay pot. Glazed clay pots are easier to care for and do not require to be seasoned but unfortunately, glazing will negate the unique properties of clay.
If you cook Chinese herbal soups every now and then, I highly recommend getting a clay pot. I find that clay pots are the best cookware for cooking Chinese herbs and also acidic dishes such as this Pig Trotter with Sweet Black Vinegar as they are non-reactive.
Modern clay pots come in attractive colors and designs. You can cook and serve from the same pot and it makes a lovely centerpiece on your dinner table. In Singapore, a popular brand of clay pot is by Tanyu. They are made with natural Japanese clay and fired at a high temperature of 1260°C.
Top picks:
---
6. Alumite Ceramic Pot
Pros: Durable, scratch resistant, durable and easy to clean.
Cons: Not suitable for induction cookers.
Alumite ceramic pots are newer in the market compared to the other type of cooking appliances. They are covered with an alumite coating on the interior and exterior to enable the pot to resist scratches and corrosion. Alumite processing is a state-of-the-art anti-corrosion method used in aircrafts and vessels. This processing consists of 8 phases where a layer of fine ceramic oxide film is applied on the inside and outside of the pot to provide a strong and durable surface.
I use Happycall alumite ceramic pots and I cook everything from soups to stews to curries with them. Food heats up quickly and they are solid pots yet surprisingly light. There are different sizes available to cater for various cooking needs and also a separate steamer tray for steaming. The bright, attractive colors and sleek design is a bonus.
For an in-depth review of Happycall alumite ceramic pots, click here.
Top picks: 
---
7. Rice Cooker
Pros: Versatile, convenient, makes perfect rice, long lasting.
Cons: High-end fuzzy logic rice cookers are expensive.
Modern rice cookers can do a lot lot more besides cooking plain rice. Called fuzzy logic rice cookers, these type of rice cookers have computer chips to program and make adjustments for optimal temperature and cooking time.
Although it is mainly used for cooking rice, fuzzy logic rice cookers can cook a wider range of food such as soups, congee, cakes, different types of rice grains (brown, mixed, jasmine, sushi) oatmeal and slow cooked dishes. Some models like this one also has a bread making function.
Fuzzy logic rice cookers are equipped with more functions and also cook a wider range of food such as porridge, oatmeal, cakes and bread, different type of rice grains (brown, mixed, jasmine, sushi), etc. I have one by Philips which I've been using for about 5 years and it's still in good working condition. I've used it to boil soups on many occasions and it's really easy to use.
If you're looking for a fuzzy logic rice cooker that also has a function to cook soups, look for one with a 'Slow Cook' function such as this and this or a 'Soup' function such as this model.
Top Picks:
---
Conclusion
Choosing the best soup pot (or pots) is easy once you know what is important to you and your lifestyle. All of the above-mentioned cookware can do a very good job of boiling soup. For me, I use these four the most: clay pot, thermal cooker, stainless steel pot and alumite ceramic pot. The thermal cooker is very useful on busy days when I have to be out of the house and I do not have to worry about burning anything. The stainless steel pot and alumite ceramic pot are both very easy to use and clean. As for the clay pot, I find that it intensifies the flavors of the soup and makes it very tasty.
I hope this article will help you in your search for the best soup pot. Which is your favorite soup pot and why? Share with me your thoughts and comments below.