Pig's trotter in black vinegar and ginger stew is a standard Chinese confinement dish after a woman gives birth. Traditionally eaten by new mothers, this stew promotes strength and aids in recovery of the body from the strenuous process of giving birth. It also keeps the new mums warm in the first month after birth and helps to increase breast milk supply.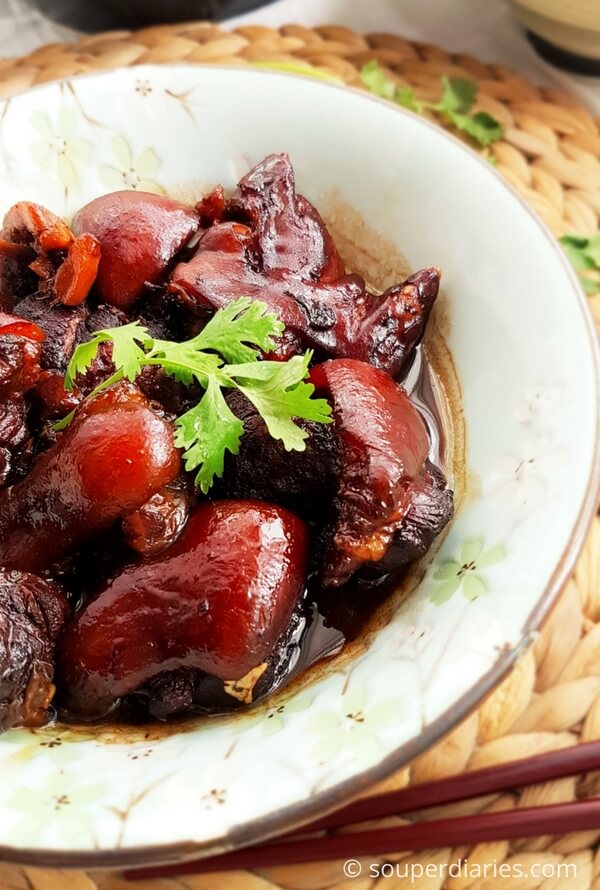 There are not many ingredients in this dish but they are all nutritious and essential. Each of them have a role to play.
Ginger
Ginger helps to drive out "wind" and provide heat in the body. I used a combination of old and young ginger. Young ginger is easier to eat as it is less fibrous. You can also just use regular old ginger if you're not cooking this as a confinement dish.
Peel and cut the ginger into smaller sections. Not too small or the stew will look 'messy' later. Gently bruise them with a pestle and mortar or the side of a cleaver. This helps to loosen the ginger and release its aroma.
Black vinegar
Black vinegar is believed to purify the blood, cleanse the stomach and intestines and encourage digestion. There are many types of black vinegar and each have their own distinctive taste. Pictured below are Chan Kong Thye (Doggie brand) and Zhe Jiang vinegar. The former is on the sweeter side of sour and the latter more sourish.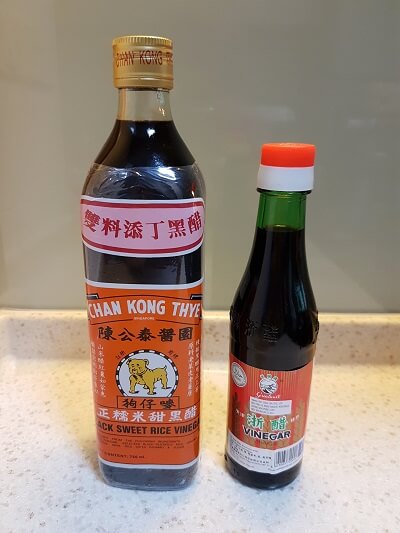 Some recipes call for using a combination of these two vinegars. I tried it and I didn't like the taste. But taste is subjective. So if you want, you can try mixing them. If not, just use one type of sweet black vinegar (Chan Kong Thye brand). Go easy on the Zhe Jiang vinegar if you use it. Otherwise, you may find the stew so tart that it's difficult to drink.
I read that Pat Chun vinegar is good for this stew too though I haven't try it yet. If you have cooked with this brand before, do let me know your thoughts about it in the comment section below.
Pig trotters
Pig trotters are rich in calcium and collagen and acts as a lubricant when eaten with the acidic vinegar. The pig trotters may not look very appealing when raw but they are SO GOOD when the stew is done. The vinegar and braising process softens the connective tissues and you get a whole lot of healthy collagen which is great for our skin and muscle tone.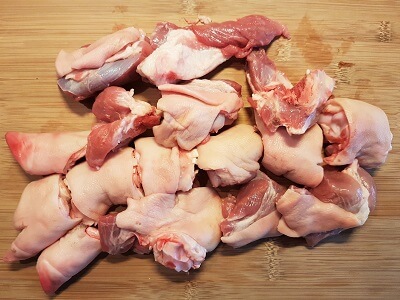 When I ate this dish during my confinement period, I would only go for the meaty part of the trotter. Now, I find that my favourite part to eat is where it has a little of everything – skin, fat, bones and meat.
The trotter has to be thoroughly cleaned before cooking. Par-boiling is a must to remove scum and dirt so do not skip this step. Remove any excess hair from the trotter skin. Wiki has an article on how to prepare pigs trotters. Burn, shave and pluck the hairs. 🙂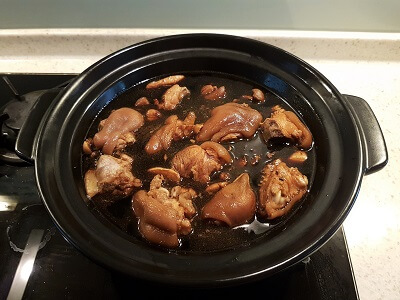 When cooking vinegar, do not use cookware made of cast iron, metal, aluminium and non-stick material. They are unsuitable for cooking acidic dishes. Use cookware made of glass, clay or ceramic for this dish.
Make sure that your pot is big enough to contain the stew. My 2 litre claypot (pictured above) was just nice to cook 1 kg of trotters. I can add in a few hard boiled eggs towards the end (when the trotters have softened) if I wanted to. If you wish to cook more than 1 trotter, use a larger claypot or other suitable pots. Check out Lazada for a wide range of Tanyu claypots.
I did not use too much liquid for this recipe as I wanted it to be a stew and not a soup. If you wish to add hard boiled eggs to the stew, you would have to increase the amount of liquid until it is sufficient to immerse all the ingredients. Add the eggs only when the meat has tenderised and let them rest in the stew to absorb the flavors before eating.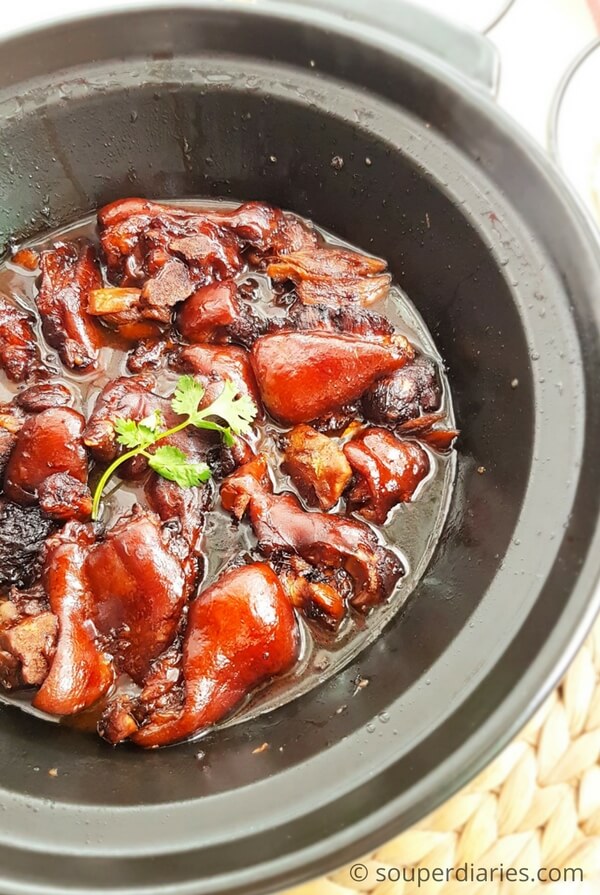 Even though this is a traditional confinement dish, you can enjoy it anytime too. Sometimes, we just want to satisfy our cravings.
Do note that this recipe is more for everyday consumption. If you're cooking this during the confinement month, add more vinegar, ginger and sesame oil. Also, palm sugar (gula melaka) is preferable over white sugar as the latter is believed to cause more "wind" in the new mother.
Usually, I would avoid eating pig's skin (unless it's the crispy kind) especially when eating out. But in this dish, the skin is so tender and tasty it is almost a crime not to eat it. Haha! The sweet and tart vinegar balances the rich and gelatinous skin nicely so it doesn't taste oily at all. What's more, it tastes even better the next day as the flavors continue to permeate the trotter.
For another confinement food recipe, try this delicious Green Papaya Fish Soup which also helps to increase breast milk supply. You don't have to give birth to eat this! 🙂
Don't want to miss any new recipes? Subscribe to Souper Diaries newsletter and have the latest recipes and updates delivered to your inbox! And keep in touch on Instagram, Pinterest, Twitter and Google+. See you soon and happy cooking!

Pig Trotter with Ginger and Black Vinegar Stew
A traditional Chinese confinement dish for postpartum women. This nutritious stew helps the new mother to recover from giving birth, provides warmth and helps to increase breast milk supply.
Ingredients
1 fresh pig's trotter (foreleg) - about 1 kg (get the butcher to chop into smaller pieces)
Sesame oil - 2 tbsp
100 g old ginger
100 g young ginger
80 g brown sugar (adjust to taste)
400 to 500 ml water
300 ml sweet black vinegar (I used Doggie brand) - add more if required
100 ml Zhe Jiang black vinegar (optional)
Salt to taste


Cooking Equipment
Wok and Claypot
Instructions
Wash pig's trotters. Remove hair if any. Blanch them in boiling water for about 5 minutes to remove scum and excess blood. Remove and rinse with tap water. Set aside.
Scrape off the skin from the gingers with the back of a teaspoon. Cut into big pieces and bruise them with a pestle and mortar or the flat part of a cleaver.
Heat sesame oil in a wok. Fry both old and young ginger till fragrant. Add trotter and stir for another 5 minutes.
Transfer ginger and trotter pieces to a clay pot. Pour vinegar, water and sugar into the claypot and bring to a boil. Lower heat and simmer for about 30 minutes.
Taste and adjust the vinegar stew if necessary. Simmer for another 30 - 45 minutes depending on how soft you'd like the meat to be. Season with salt. You can serve and eat it immediately but it will taste better if you wait as the trotters continue to soften and absorb the flavors of the vinegar.
Cooking Notes
1. Don't use too much water and vinegar or the stew will become soupy.
2. Increase the amount of ginger and sesame oil if you're cooking this as a confinement dish.
3. Cast iron, metal, aluminium and non-stick pots are not recommended as they may react to the acidic vinegar. Use cookware made of clay, glass or ceramic. Crock pot can also be used.
4. Do not let the meat cook for too long with the vinegar. This will cause the stew to become sticky as the gelatine from the pig's skin melts.
| | |
| --- | --- |
| | |