One of the ways to enjoy century eggs is in this classic century egg pork congee. A popular Chinese breakfast food, you can find it at hawker centres, market food stalls and dim sum restaurants.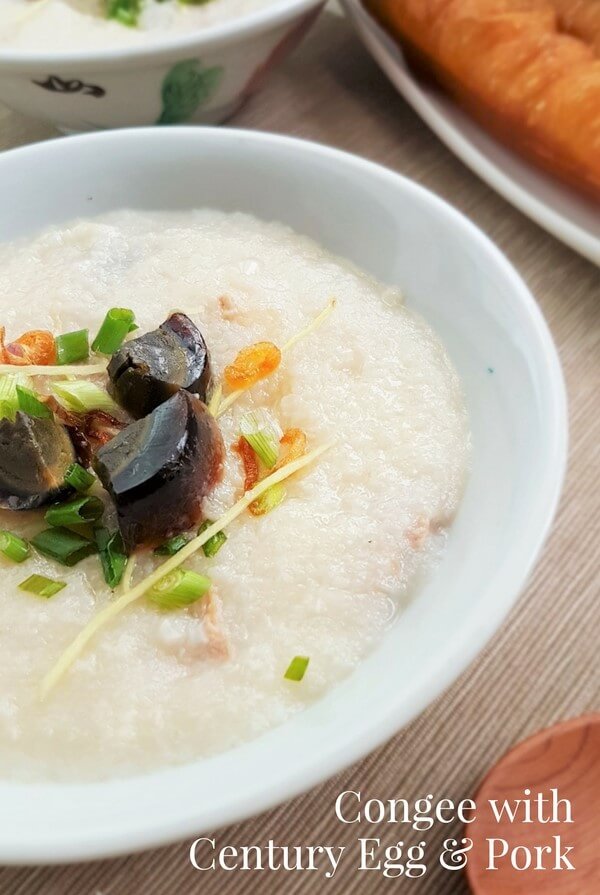 What is Century Egg?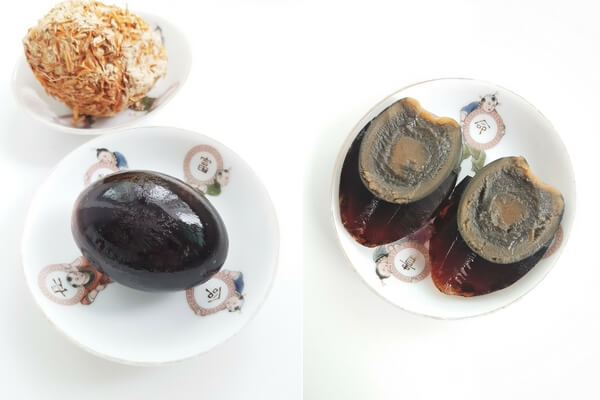 They are a Chinese delicacy made of preserved duck, chicken or quail eggs. Century egg or pídàn (皮蛋) is also known as hundred-year egg and thousand-year egg.  Contrary to its name, they have not been preserved for a thousand years nor even a century. They are preserved using a mixture of clay, ash, salt, lime, and covered in rice hulls for several weeks to a few months. This process turns the yolk to a creamy texture with a strong flavor while the whites of the egg turns dark, jelly-like but with very little taste.
If you've never eaten century eggs before, this century egg pork congee is a good introduction to their unique taste. The flavorful congee helps to mask the strong aroma of the century egg. I really love the combination of the smooth congee with the creamy century egg and all the different garnishes. The strips of ginger also helps to cut through the taste of the creamy and pungent century egg.
Other recipes with century eggs: Steamed Three Eggs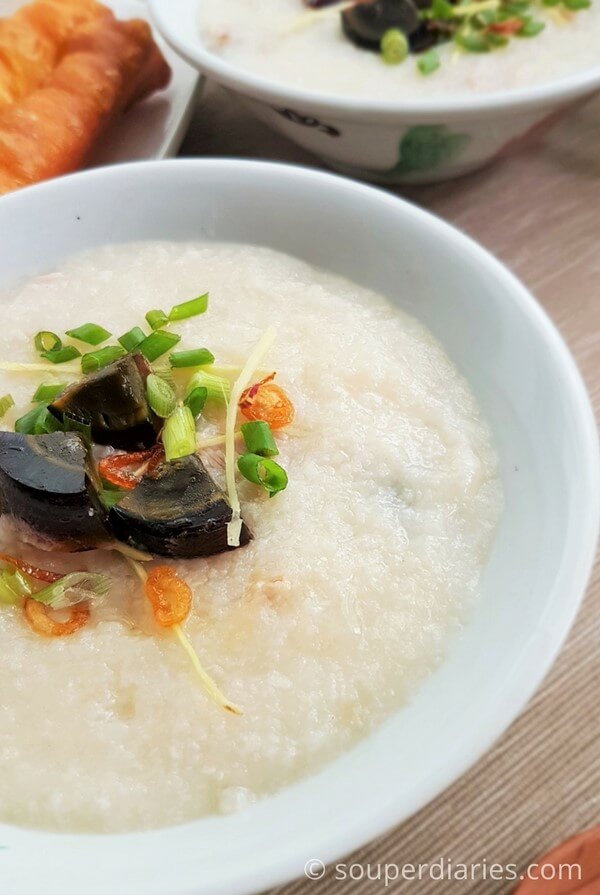 To make congee, you can cook with frozen rice, soaked rice or pre-cooked rice. Use what is convenient for you. I tried all three methods and the results from the first two are quite similar.
Pre-cooked rice though will take a shorter time to cook (especially if you blend the cooked rice). It doesn't matter which method you use. The key to a smooth congee (without the aid of any blending tools) is to stir the congee frequently. This helps the starch to break down more easily and shortens the cooking time.
The rice to water ratio is important too. For this recipe, I used a rice to stock ratio of 1 : 7 as I don't like my congee to be watery. Use more stock ( 8 cups of liquid to 1 cup of rice) if you prefer the congee to be thinner.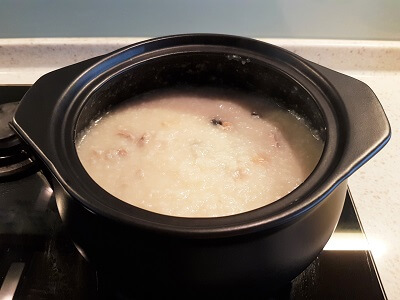 You can use any type of pot to make congee. Some rice cookers come with the porridge/congee function too. Other ways to cook congee include using slow cooker, thermal cooker and even pressure cooker. I love using my claypot to make congee.
I took less than an hour to cook this congee as it was almost lunch time. Can't keep Rui, my lil boy waiting for his meal. Even though the cooking time was quite short, I'm happy with the taste and texture. If you want the grains to break down further, you'll need to boil it for a longer time, add more stock and stir frequently.
I used a single grain (jasmine white rice) but a combination of grains can be used too though I read that the latter will take a longer time to cook. Stir the congee every now and then to prevent it from sticking to the bottom of the pot. I stirred more frequently towards the end of the cooking time. Add the diced century eggs and pork only when the congee is almost ready. If you add it too early, the pork will overcook and turn tough and chewy.
A steaming bowl of hot congee (or jook) is comfort food for many people. This century egg pork congee is definitely one of my favorite congee. So simple but satisfying! 🙂
Would you like to become a food blogger like me? Or are you passionate about other hobbies/niche that you would like to share? Learn how to create your own website and much more at Wealthy Affiliate. There's a 7 day trial that is absolutely FREE! Find out more here.
Century Egg Pork Congee
Century egg pork congee is a classic Chinese food.
Ingredients
1 cup uncooked rice (150 g) - washed and freezed overnight in a container
7 cups soup stock - low sodium / homemade chicken stock or ikan bilis (anchovies) stock
2 century eggs - shelled and diced
150 g lean pork - sliced thinly across the grain
30 g small dried scallops (optional) - pre-soaked for an hour


Marinade for Rice
1 tbsp cooking oil
½ tsp salt


Marinade for Pork
1 tsp light soy sauce
1 tsp fried shallot oil (or sesame oil)
1 tsp corn starch
Dashes of white pepper


Garnishing
Chopped spring onions
Fried shallots and its oil (or sesame oil)
Thinly sliced ginger
Youtiau (optional)
Instructions
Heat up stock in a pot till it boils. Meanwhile, marinade the frozen rice with oil and salt. Mix well and set aside.
When the stock starts boiling, put in frozen rice and dried scallops. Lower heat to medium and stir occasionally to prevent the rice from sticking to the bottom of the pot.
Cook for about 40 minutes or longer depending on your preferred consistency.
When the congee is almost done, add lean pork slices. Stir awhile before adding diced century egg. Cook for another 5 to 8 minutes and stir frequently. Taste and season the congee to your preference with salt or soy sauce.
Garnish with sliced ginger, spring onions and fried shallots. Drizzle with a little sesame oil. (Optional) : Serve with you tiau.
Cooking Notes
1. Add more stock to the congee if you find it too thick.
2. You may use mixed grains of rice too.
3. Stir frequently if you want a shorter cooking time.