Quick, easy and delicious tomato egg drop soup recipe with bacon ready in 20 minutes!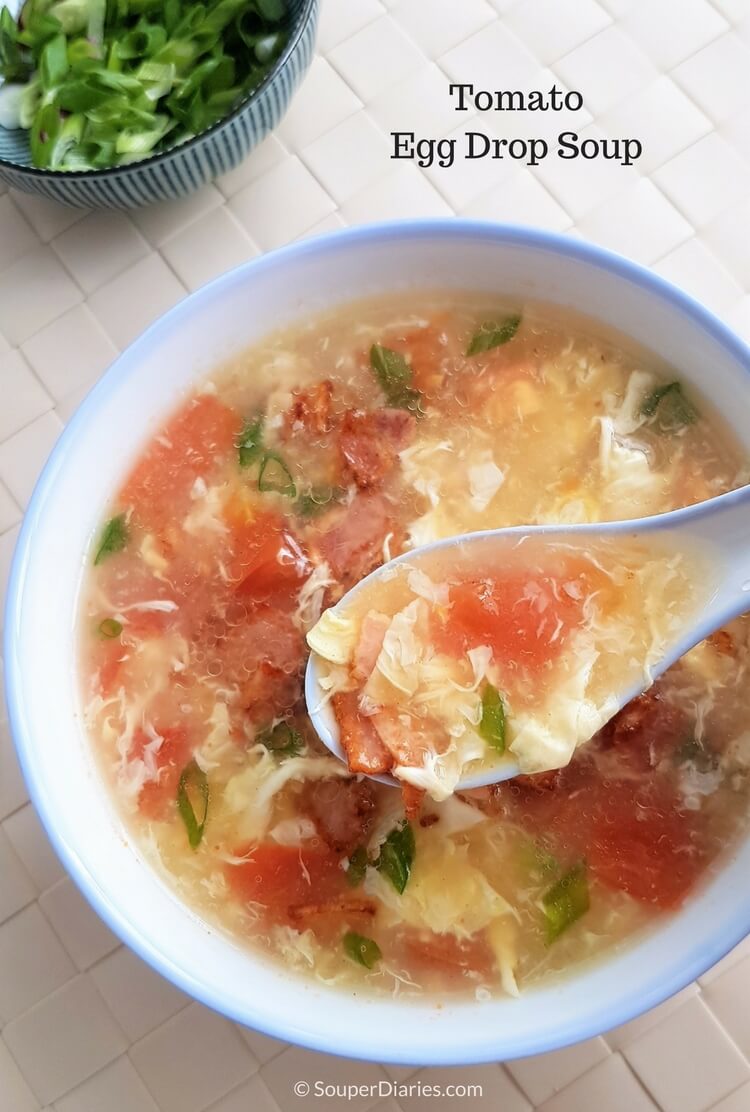 Tomatoes: A natural sunblock for your skin
Did you know that tomatoes are nature's sunscreen? Ever since my elder girl learnt that tomatoes are nature's sunscreen, she has been going batty over them. Whenever there are tomatoes in the house, she will be the first to snack on them and sometimes finishes the whole lot.
Tomatoes contain lycopene, an antioxidant which can protect the skin against free radicals by 35%. They do need to be cooked first to liberate carotenoids from the plant cells. Studies have shown that people who ate tomato with oil had a higher resistance to sunburn. However, that does not mean that you can throw away your sunblock. The sun protection factor from downing lycopene is as good as a sunscreen with a sun protection factor (SPF) of only 2 or 3. Still, it's good to know that simply by increasing tomatoes in our diet it is an extra tool for protection against daily sun damage.
I had some leftover bacon from a spaghetti sauce I made last weekend so I decided to add them into this tomato egg drop soup. That's the beauty of egg drop soups. You can customize it to your heart's content.
After my third child came along and I started my food blog, I'm constantly experimenting with quick and easy recipes. Some turn out to be hits while others are misses. I'm glad this soup turned out to be a hit with my children. I think it's mostly due to the bacon. My girls requested that I cut the bacon into bigger slices the next time. 🙂
Use low sodium chicken broth or homemade chicken stock for this soup. If using store-bought regular chicken broth is too salty for you, mix 2 parts broth to 1 part water to reduce the saltiness.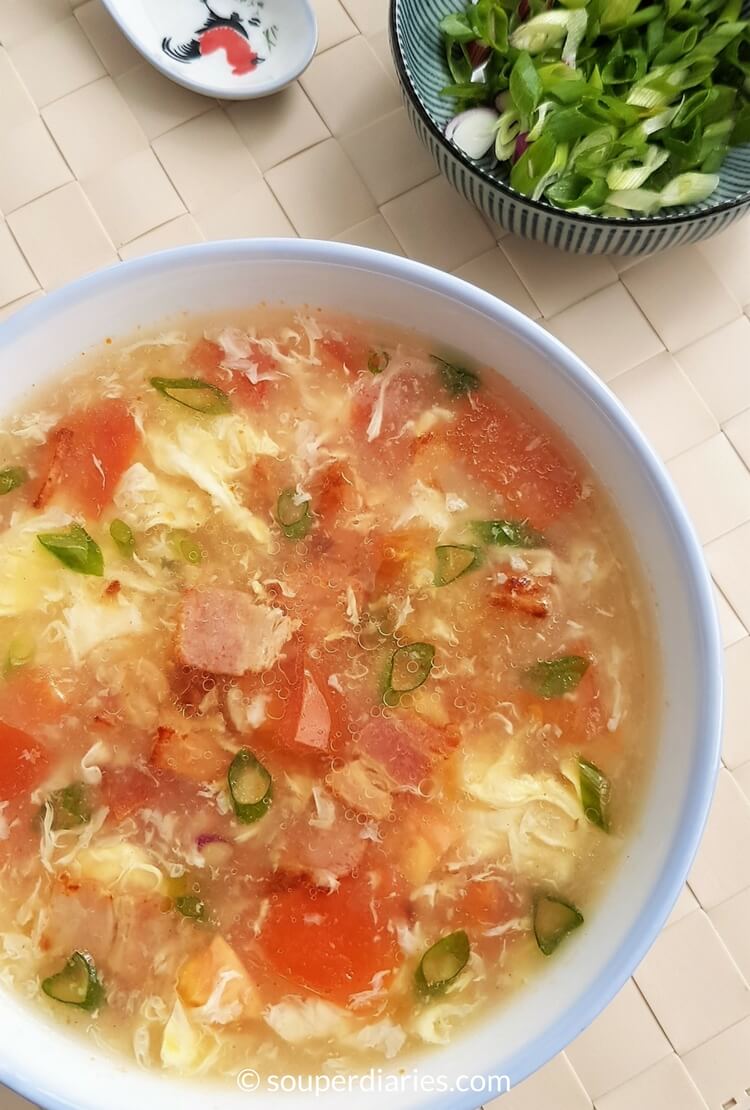 This is the third of my egg drop soup recipes. If you missed the earlier recipes, check them out here:
If you try this tomato egg drop soup recipe, don't forget to tag @souperdiaries on Twitter or @souperdiaries on Instagram. I would love to hear from you. Happy cooking and see you again!

Tomato Egg Drop Soup
Easy and delicious Tomato Egg Drop Soup with fried bacon. The rich and salty bacon complements the tangy and fresh tomatoes perfectly.
Recipe type:
Quick Soup Recipes
Ingredients
3 cups low-sodium chicken broth (or use homemade chicken stock)
2 eggs – lightly beaten
3 strips of bacon - cut into small pieces
1 tomato – diced
2 tbsp corn starch
3 tbsp water
Salt - to taste
White pepper - to taste
Spring onions for garnish
Instructions
Bring chicken broth to a boil in a small soup pot. Mix cornstarch with water and set aside.
Pan fry bacon till crisped. Not necessary to add oil as the bacon will produce oil. Dish out and set aside.
Once the broth is boiling, add tomatoes, cornstarch slurry and half of the fried bacon into the pot. Stir and let the tomatoes cook for about 1 - 2 minutes. Season with salt and white pepper to taste.
Turn off the heat. Gently swirl in the beaten eggs and stir with a fork or a pair of chopsticks. Cover with lid for about a minute to let the eggs set. Garnish with spring onions and the rest of the fried bacon. Divide into individual bowls and serve immediately.