Daikon Radish Soup helps to clear heat and detoxify the body. It neutralizes toxins, stimulates weight loss, aids digestion and reduces inflammation.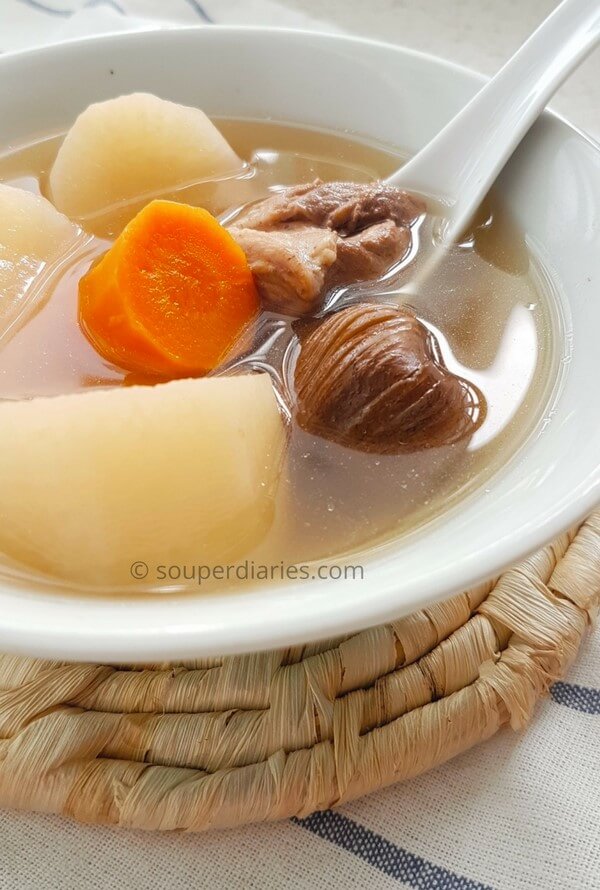 Daikon (白萝卜) is a root vegetable that looks similar to carrots but it is white in colour. Besides cooking in soups, daikon (or white radish) is also used in Chai tow kway, a popular dish consisting of stir-fried cubes of radish cake. Daikon is delicious whether eaten raw or cooked. Raw daikon have a crisp and firm texture which I love to eat with sashimi whenever I dine in a Japanese restaurant. The clean taste of daikon balances the taste of the raw fish perfectly.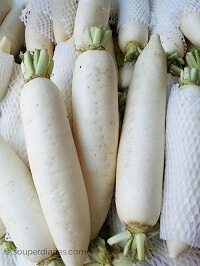 The health benefits of daikon include cleansing and detoxifying properties for the digestive system so whenever I feel that I have too much rich or deep-fried food, I'll boil a big pot of this soup the day after.
As daikon helps our body to detox, do not drink this soup if you're taking herbal tonics or medication as it will neutralize their efficacy.
In Traditional Chinese Medicine (TCM), it is believed that daikon can help with indigestion, bloating, sluggish bowel movement, prevent food from accumulating around the stomach and also helps to clear phlegm.
Daikon is also high in fiber, satisfying your hunger without giving you the calories making it a good dietary option. Low on the glycemic index, they are also suitable for diabetics as they do not cause blood sugar levels to rise.
The 2 essential ingredients for this soup is the daikon and pork. The rest of the ingredients are used to sweeten the soup naturally. I usually use dried cuttlefish whenever I boil daikon radish soup as they give the soup a distinctive taste. In this Daikon Radish Soup recipe, I also added dried scallops and dried honey dates to boost the flavor. Sometimes I use dried oysters depending on what's in the fridge. Both will enhance the sweetness of the soup. (Do note that this recipe has been updated).
The white radish becomes very soft after boiling and it is also a little fibrous. If you like this root vegetable, you will love this Salmon Miso Soup too. Pair this soup with some rice and a simple vegetable dish. Enjoy! 🙂
Would you like to receive the latest updates and recipes from Souper Diaries? Subscribe to
Souper Diaries newsletter
to receive the latest recipes and updates delivered to your inbox. You can also find me on
Instagram
,
Pinterest
,
Twitter
and
Google+
. See you again and happy souping!
Daikon Radish Soup Recipe
A detoxifying soup to help clear heat and is good for the digestive system.
Recipe type:
Slow Cook Soup
Ingredients
6 cups water
350 grams pork spare ribs or soft bone
1 medium daikon (white radish), peeled and cut into chunks
1 carrot, peeled and cut into chunks (optional)
1 large piece or 3 small pieces of dried cuttlefish (about 50 g)
6 dried scallops - soaked till soften (optional)
2 dried honey dates
1 small knob of ginger - peeled
Instructions
Par-boil the pork in a pot of boiling water to get rid of impurities. Remove pork, rinse and set aside.
Pour water into a soup pot and add all the ingredients. Bring to a boil then simmer over low heat for about 1.5 hours or until the meat is tender. Season with salt to taste.
Cooking Notes
Use chicken instead of pork if preferred.