Sweet potato ginger soup – A sweet Chinese dessert soup spiced with the heat of ginger and scented with the fragrance of pandan leaves. Heartwarming and soothing especially during the colder weathers.
A warming soup, this Chinese sweet potato ginger soup is my go-to dessert when the weather gets chilly or when I am down with a cold. All you need to make this sweet dessert soup is four basic ingredients and less than 30 minutes. It's really comforting to drink this when it's rainy and wet outside.
The basic ingredients for this sweet soup is sweet potatoes, ginger and brown sugar. The rest, like the pandan leaves and dried longan which I used in this recipe are optional but they do enhance the taste and aroma of the soup. My kids and I love snacking on the dried longans. The smokey and naturally sweet taste makes them SO addictive! I couldn't stop myself from snacking on the 'props' as I took the photographs. 🙂
There are many varieties of sweet potatoes and some tend to cook quicker than others. My personal favorite is the Indonesian variety called honey sweet potato. It is also known as ubi cilembu. The inner flesh is light yellow and the color becomes more pronounced when it is cooked. At places where this sweet soup is sold, usually the orange fleshed variety is used.
Health benefits of sweet potato
Sweet potatoes are not only easily available all year round and inexpensive, they have numerous health benefits. Did I also mention that they're delicious?
Here are 5 health benefits:
They are a good source of fiber which make them excellent for digestion.
Rich in beta-carotene (Vitamin A), a major antioxidant.
Good source of magnesium, a mineral which helps to de-stress and promotes relaxation and calmness.
Even though sweet potatoes are naturally sweet, they have a low glycemic index and do not cause a sugar spike. Their natural sugars are slowly released into the bloodstream.
Good source of vitamins E and C. Vitamin C helps ward off colds and flu viruses.
While it's true that it is very easy to cook this sweet potato soup, it is also equally as easy if not more to overcook the sweet potatoes if you're not keeping a watchful eye. They soften easily when boiled and will disintegrate into the soup if overcooked. The taste is still great though if you don't mind the soft texture.
Cooking tip: Cook time will also depend on the size of the sweet potatoes. Cut them into similar sizes so they will be cooked at the same time.
This dessert soup is best taken right after cooking. That's when you can feel the heat of the ginger at its most potent. If you like ginger, feel free to add more for extra zing in the soup. I would've added more ginger if not for my kids. I think ginger is appreciated more by adults as my kids don't really like too much ginger in their dessert. Some of the smashed ginger was ladled into Piggy's bowl of sweet potato soup. She bit into a piece and thought that I was "pranking" her by mixing up the ginger with the yellow sweet potatoes. 😀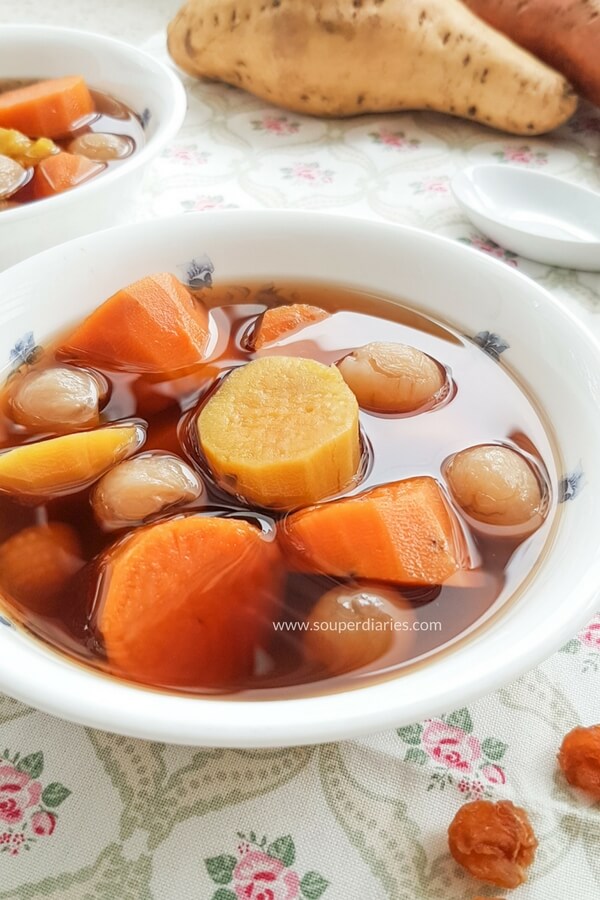 The aroma from the ginger, pandan leaves and dried longan which perfumes the kitchen as you cook this sweet potato soup is simply inviting and irresistible. Sometimes all we want is just a simple, quick and heart-warming soup.
More Chinese dessert recipes you may like:
Sweet Potato Ginger Soup
Recipe type:
Desserts and Drinks
Ingredients
600 g sweet potato (use yellow or orange sweet potatoes or both)
1 bunch of pandan leaves (about 7 stalks) - washed and tied into a knot
60 g ginger - lightly bruised to release juice
Brown sugar - to taste (I used 3 tbsp)
40 g dried longan
5½ cups water
Instructions
Peel and cut the sweet potatoes into small pieces of similar size. Place pandan leaves, ginger, dried longan and water into a medium sized pot and bring to a boil. Once the water boils, add sweet potatoes and simmer for about 7 - 10 minutes or till the potatoes are just cooked through. Do not overcook the sweet potatoes or they will become too soft and disintegrate easily into the soup.
Remove pandan leaves. Sweeten with brown sugar to taste. Ladle into individual bowls and serve immediately.